This dish is not your typical soft pudding with rice mixed in. The texture is completely set and that's why I like it. I generally use leftover rice because the recipe is pretty quick to prepare for 2-4 people with just a few ingredients. I honestly can't remember where I got the original base recipe because it's been more than 25 years.
I've made several changes over the years and I can offer you a couple of options for additional flavor changes or allergy issues. You'll note that I specify ceylan cinnamon in this recipe. This type has a more mild flavor that the regular Mexican variety you find at the grocery store. I was experimenting with some new spices this past month and this one is going to be a favorite for those times when you need something subtle. If you use the regular kind from the grocery store, just try cutting the amount in half so it's not overpowering. I also added a finger pinch of  nutmeg in one of my tests and liked that quite a bit when I didn't use a liquor. I have used a tablespoon or two of Kahlua in this recipe in the past and it's wonderful, but you can use whatever liquor you prefer along with some fresh fruit if you have it.
This recipe cooks up pretty fast and I normally make it in my toaster oven but I keep an eye on it to make sure I don't over cook it. You're looking for it to just start to brown. More than that, and it will be too dry when it cools. It will also double easily but you need to add about 10-15 minutes to the cook time and use a larger baking dish.
I generally use a #20 Le Creuset  enamel oval baking dish which is pretty small. I have also used a couple of #20's for individual servings. I haven't tried to cook it in ramekins and water bath yet, but I think it would be great that way too, especially if you wanted to significantly increase the volume and not worry about it baking up properly in a large dish.
The base recipe re-heats in the microwave oven quickly on a low power setting (eggs & milk), but it is best served as it comes out of the oven with maple syrup (I use an infused  cardamom & ginger but you could add the spices to the base recipe). It's a very pretty dessert and it smells heavenly as it's cooking and when it first comes out of the oven.
You'll notice that I have suggested cooking the rice in coconut water. It works well to cook it in coconut milk, but the rice and coconut water blend came out more fluffy than using plain water or "milk".  I have also substituted coconut milk for dairy milk and changed the butter to coconut oil or a soy based non-hydrogenated margarine. Both work well if you need to make this lactose free. I think that almond milk would work equally as well as a substitute for the dairy milk and I'll make some notes on the post when I try that in the next couple of weeks. For now, I'm kind of tired of eating rice pudding.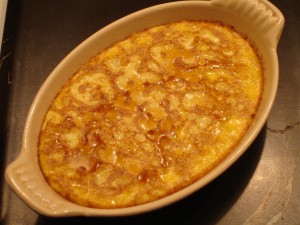 Ingredients:
2 eggs
3/4 cup low-fat milk (coconut milk}
2 tablespoons sugar
1/4 teaspoon ceylon cinnamon
1/2 tablespoon melted butter (coconut oil or  margarine) cooled
pinch of nutmeg
1/2 teaspoon vanilla extract
1 cup cooked basmati rice (suggest cooking in coconut water)
Directions:
Beat the eggs and milk together until well blended.
Add in the rest of the ingredients minus the rice and mix well.
Then add the rice making sure it is not clumped and mix well.
Pour this into a well-buttered dish (4″x6″) and bake uncovered for about 35-45 minutes at 350F until it is just starting to brown. You can test it by sticking a toothpick into the middle. It should come out clean and not have any wiggle. This dish can be dry if it's over-baked.
Serve warm with maple syrup or honey. You can use a liquor, fruit butter, fresh coconut , fruit, or whipped cream to top it off too.