This is one of the soups that I served at the Holiday Open House in downtown Raleigh a couple of weekends ago. In that case I served it with rice that I cooked using plain coconut water. Normally I would serve it over the rice, but I put it into the soup in order to keep it warm in the crock pot. You could do the same for a party. Heat the base soup up first in the crock pot and add the cooked rice when the soup is really good and hot and you are close to serving your guests.
Over the years I have accumulated several chicken curry recipes and there are many variations of the Mulligatawny soup floating around. I suspect this one has been toned down quite a bit to fit our culture.  All of the recipes I have used are really fast to prepare and wonderful on a cold damp day. I'm going to give you some variations at the end because I cook most of the ingredients ahead of time and store them as a part of my regular routine and the soup becomes a second harvest for us. You have to adjust the quantities if you cook this way. I think you could actually revise this a bit more for a camping trip using bullion cubes and dehydrated vegetables and chicken pieces.
Normally, I start loading up on chicken in the fall before it gets cold. Farmers don't like to process chickens when it gets into the freezing temps. I don't blame them one bit,  so I like to get extra in October and November, cook them up and store them in the freezer. Typically I pressure cook most of the chickens with fresh herbs, celery and onions so that I have plenty of homemade stock on hand through the winter and it's a really fast and simple cooking method. I pull the chicken and freeze it in increments of about 2 cups. The broth is frozen in increments of 2 & 4 cups. That seems to work for most recipes. I find there is less freezer burn using hard containers instead of plastic freezer bags, but if you are tight on space, double bag the freezer bags and that will help preserve the meat better. You can also store the chicken right in the broth if you like. And I've done that with veggies too.
Normally I have already sautéed heirloom celery in olive oil and stored it in 1 cup increments because it comes in here during the spring. I don' t think it dehydrates well for the leaves do very well and can be substituted in recipes with a broth or sauce. For this recipe, you can use fresh onions, dehydrated sweet onions or frozen sautéed onions; frozen roasted garlic cloves; and dehydrated apples.
The rice I typically make for this recipe is Basmati with some saffron in it. You can make it with water, coconut water, or chicken broth and I typically toast it just a tad in olive oil before I add the liquid and the top. You can leave out the saffron if you don't have it on hand or just use a long grain white rice or another of your choice.  The soup is equally good without rice, but you'll need to make sure to add the cornstarch  in the recipe to thicken the broth. I frequently leave it out if I'm making rice.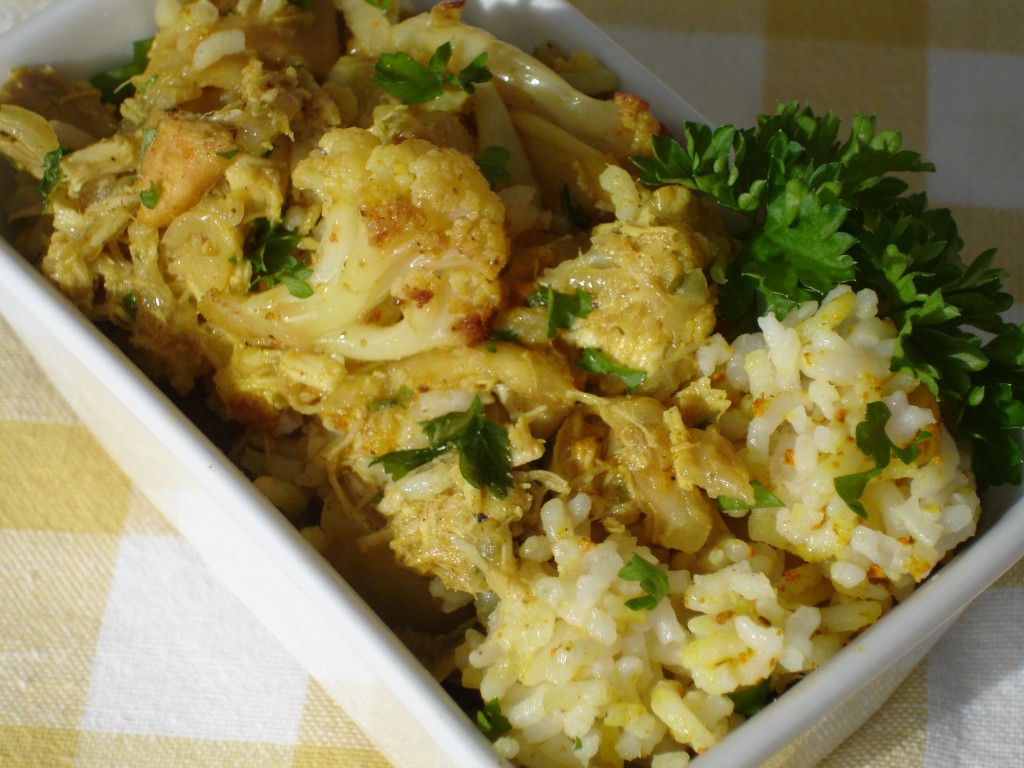 Mulligatawny Chicken Soup with Roasted Cauliflower
Ingredients:
1 lb skinned, boned chicken mixed dark & light meat
1 tablespoon olive oil
1 1/2 cups chopped onions
1 cup finely chopped celery
1  tablespoons mild curry powder
1 teaspoon medium curry powder
1/2 – 1 teaspoon ground turmeric
2 cloves garlic, minced (can be roasted garlic)
1/2 teaspoon salt
1/8 teaspoon pepper
About 2 cups chicken broth
1 Tablespoon Cornstarch
2 cups low-fat milk or coconut milk (unsweetened, low-fat)
2 1/2 cups peeled, chopped apple like Golden Delicious (sweet, not tart)
1/4 cup shopped fresh parsley (don't use dried – just skip it)
You can make your own curry mix instead of using a store brand, or add a hotter curry blend.
Directions:
If your chicken is raw, then you need to trim the excess fat from it and chop it into bite size pieces and set aside.
Pour the olive oil into a deep soup pot and heat on medium. Add the chopped celery and onion and cook until almost translucent; then add the garlic and curry powder and saute for about 3 more minutes making sure not to burn the garlic.
Add the chicken pieces with the salt and pepper and saute for another 5 minutes.
Then add the chicken broth and simmer for about 10 minutes on medium heat.
Add the cornstarch to your milk or coconut milk and blend well with a small whisk so it doesn't clump. Add this to your soup. You can warm the (coconut) milk in the microwave for about a minute on 60% to make sure you don't lower the temperature of the soup when you add it, but it's not a vital step in the process. Once you've added the milk continue to stir constantly to blend with the broth and bring it up to a simmer point for 5-10 minutes until it is thickened. Add the apple  and cook 5 more minutes. You are not trying to cook the apple, just soften it a bit.
A couple of quick notes on using pre-cooked frozen items. If you are using caramelized onions that you have already frozen, cut back on the amount to about half when measuring. Onions release a lot of water in the cooking process and you won't need as many. If you are using dehydrated onions, then you will need to cut back the amount to about 1/4 of the original and you need to add those when you add the broth so they can reconstitute in the liquid.
If you are using dehydrated apple slices like I do, make sure you break them up into small bite size pieces and add them with the milk so they can come back to life as the broth is finishing.
Fall 2011 Update

This soup is also wonderful with cauliflower that is roasted with different curries. Try adding between 1-2 cups depending on how much you like cauliflower.
Dehydrated celery leaves work to enhance the flavor if you're out of celery stalks. Use about 1/4 cup crushed. They have a lot more flavor than the stalks so add sparingly.
Dehydrated onions can be used in this recipe after hydrating them in water.