Years ago I had a fabulous bowl of black bean soup at the National Storytelling Festival in Jonesborough, TN. If you've never been, it's a wonderful experience to see an entire town join in to make this festival seem like a home-coming for visitors. It's always the first weekend in October so the colorful leaves and the crisp weather are beautiful in the mountains.
The guys that made it came out of Kingsport, TN and they didn't really have a recipe that would scale down so they just told me what they put into it and it took a few tests to get to a recipe that I think works well. You can make this a vegetarian dish by eliminating the meat and changing out the broth. I've made it with chicken and beef broth. Honestly, I like it both ways and it just depends on what's in the freezer as to how it gets cooked up during the winter months. It freezes well too.
This year a young neighbor offered me a large piece of spicy venison sausage from one of his hunting trips and I decided to add this to the soup instead of the traditional ham. It was wonderful and if you have the opportunity to do this I would encourage you to try it. I have also used leftover chicken and apple sausage that I caramelized in an aged balsamic vinegar.
I served this soup at Shops of Seaboard Station during the Holiday Open House so those of you that visited me at Galatea may have tasted it with rice. Again, this one can be served with or without rice. Adjust the spices and hot peppers according to the meat you're using or your taste. I frequently have older adults and children at the house, so this is a pretty tame recipe as it's written here.
One note on the pureed vegetables. When I make stock I use many veggies in it and I pull those out at the end and puree them and then pop them in containers in the freezer. They are useful for adding additional flavor to soups and as a thickening agent in gravy or meat-based pies. If you don't do this, it's fine to just eliminate that ingredient. I also use many vegetables that have already been roasted so the cooking time on the soup is greatly reduced when I pull this sort of recipe together. You'll need to adjust the cooking time DOWN if you used pre-cooked vegetables like I do; or leftovers from a prior meal.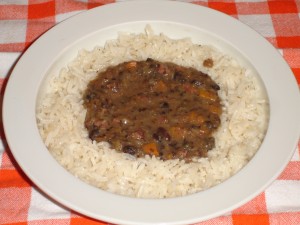 Ingredients:
4-6 cups (homemade) chicken or beef broth
3/4-1 cup cooked pureed onions & celery
1/2-1 cup finely chopped carrot
1/2-1 cup finely chopped celery
1/2 cup finely chopped onion
1-2 cups chopped cooked ham (or other meat)
2 (15 oz) cans of black beans, rinsed or equal amount cooked (dried) beans
1/2 teaspoon dry mustard
1/2-1 teaspoon coriander
1 teaspoon cumin
1/2 teaspoon oregano
1/2 teaspoon thyme
1-2 cloves minced roasted garlic
salt & pepper to taste
Olive oil
Directions:
In a large stock pot or dutch oven, saute the carrot, celery & onion in olive oil on low/med heat for about 10 minutes until the onions are translucent. Do not brown or burn the vegetables.
Add in the meat (ham, chicken, sausage) along with all of the spices and cook for another 5 minutes to transfer some of the flavor. If you are using a sausage; pre-cook it on the grill or in a pan so it has some additional flavors, but don't add it raw into the vegetables.
Reserve 1 cup of your stock of choice to puree some of the black beans and then add the remaining stock and pureed vegetables to the cooked vegetables and meat  in the stock pot and simmer for about 15 minutes on medium/low heat. Mash or puree half of the black beans that have been cooked and rinsed with your 1 cup of reserved broth so that they act as a thickening agent and add to your soup.
Add the other half of the beans to the soup whole and simmer for another 10 minutes. You can transfer this to a crock pot and leave it on low for a couple of hours.
Options:
If the beans and veggies get too soft you always have the option of pureeing everything which is how many black bean soups are served with a dollop of sour cream.
If you want to change the flavor a bit more, try adding about 1/2 cup of cooked, mashed sweet potato. The Asian purple varieties will keep the color dark and still add the same flavor as the traditional Southern orange flesh.
Chicken & Apple Sausage, Rabbit Sausage, Rattlesnake Sausage