This is one of my favorite baked items to bring to the early fall markets to share with other vendors and customers as the weather changes.
After looking at both Smitten Kitchen and Gourmet Magazine I made a few adaptations to my Panettone Bread Pudding recipe; altering the sugar and eggs and eliminating liquor from the recipe so anyone could eat it. There's no reason this shouldn't work with a gluten-free bread too. I've tested this with almond milk but not evaporated or coconut.
Normally I prepare the pumpkin mixture the night before and keep it refrigerated.  The butter can sit out overnight if it's not hot in the house. Assembling the recipe and baking it as I'm getting ready for the market is pretty simple since the measuring is all finished. It's warm when I arrive and perfect with a cup of tea.
You can add also a cup or so of salted/buttered pecans on the top of this in the morning just before you bake it to create a more interesting crunch on the top and add a bit more protein. I really like the contrast of the salty pecans to the sweet pudding. They are easy to make: just toss 1 cup of pecan halves with 1 tablespoons melted butter and 1/4-1/2 teaspoon salt depending on your taste. Then bake at 300 until golden brown or heat a non-stick skillet and toss around on medium heat until toasted but not burned.
More often than not, I use leftover bread from the freezer and roasted pumpkin and beaten eggs that are stored in the freezer. A note on eggs: you can beat them and freeze them for a couple of months. Fresh eggs will easily keep 4 weeks in the fridge but if you buy in bulk and you want to put some in the freezer for winter baking projects they will last a couple of months.
One last note is that I find the clear glass baking dishes consistently work well for this recipe. If I'm taking this dish to a party and plan to leave it, I just use a disposable aluminum pan and keep an eye on the baking time so I don't over bake.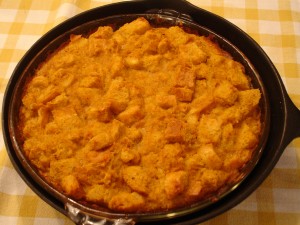 Ingredients:
1 1/2 cups 2% milk
2/3 cup cooked pumpkin (fresh roasted, frozen or canned)
1/4 cup date sugar (break it up or run it over a fine grater for even consistency)
1/4 cup turbinado sugar
3 large eggs
1/2 teaspoon salt
1 teaspoon ground cinnamon
1/4 teaspoon ground ginger
1/8 teaspoon nutmeg
1/8 teaspoon ground allspice
1/ teaspoon of ground cloves
5 cups cubed (1″) day old white bread
6 tablespoons unsalted butter
8″ square glass baking dish or deep dish glass pie pan
Directions:
Add the butter to your baking dish as you preheat the oven to 350F with the rack in the second lower position.
When the butter in the dish has melted, pull it out and add your bread crumbs, tossing to coat them well. Make sure to coat the sides and the bottom of the baking dish with the butter really well. It makes a difference when you go to clean the pan later.
In a mixing bowl whisk together the eggs and sugar until the sugar is mostly dissolved. The date sugar is a bit stubborn to work with and you need to make sure it's not clumped together before you start the process.
Add your pumpkin and spices and mix together well.
Add the milk last and mix until well blended. Refrigerate this mixture if you are not baking right away.
Spread the bread crumbs evenly through the pan and gently pour the pumpkin mixture over the bread. I normally let this sit 15 minutes so the eggs come to room temperature and the bread can absorb some of the wet pumpkin mixture.
Bake about 30 minutes until the pumpkin custard is set. It really never browns and it's easy to  over cook, so just keep an eye on it. It will come out moist, but a toothpick inserted will come out clean like a cake.
This comes out fairly dense and it will easily serve 8 people.