Well it's been snowing since early this morning. A rare sight in Raleigh. We've been out several times taking photos and chasing after the dogs.
We had a lovely local, uncured, sustainable ham roast yesterday. There's a mouthful.  The leftovers present a huge choice. You can make any number of wonderful winter soups, sandwiches, or bbq. I've even made an Asian wonton from my ham with fresh local cabbage.
Today, I've chosen to make a very old ham soup recipe that you can make with fresh ingredients or leftovers. There are a few shortcuts along the way if you want to prepare this a bit faster. It requires you to have a few things stocked in the freezer and you can make a half batch just as well as a full batch of this recipe if you family is smaller or you don't want a second meal out of it. This is a very forgiving recipe it's fine if you don't have exact amounts of any given ingredient, just follow the techniques/directions and it will turn out well. As you can see from the photos, I didn't have fresh local green beans I just skipped them today. But they add a lovely dark green color to balance the light green cabbage when you are serving this to guests.
It doesn't freeze well after it's assembled but it keeps in the fridge for a couple of days very well if you don't mind leftovers or you want to make it in advance. It's the most beautiful when you serve it up right away. Some of the color is lost as it is stored, but the flavor of the broth increases so there's a trade off. I have not tried this with a meat substitute yet. I think it might work well with the Gimme Lean spicy (soy) sausage because the flavors would work well together. Let me know how it turns out if you try it so others can too.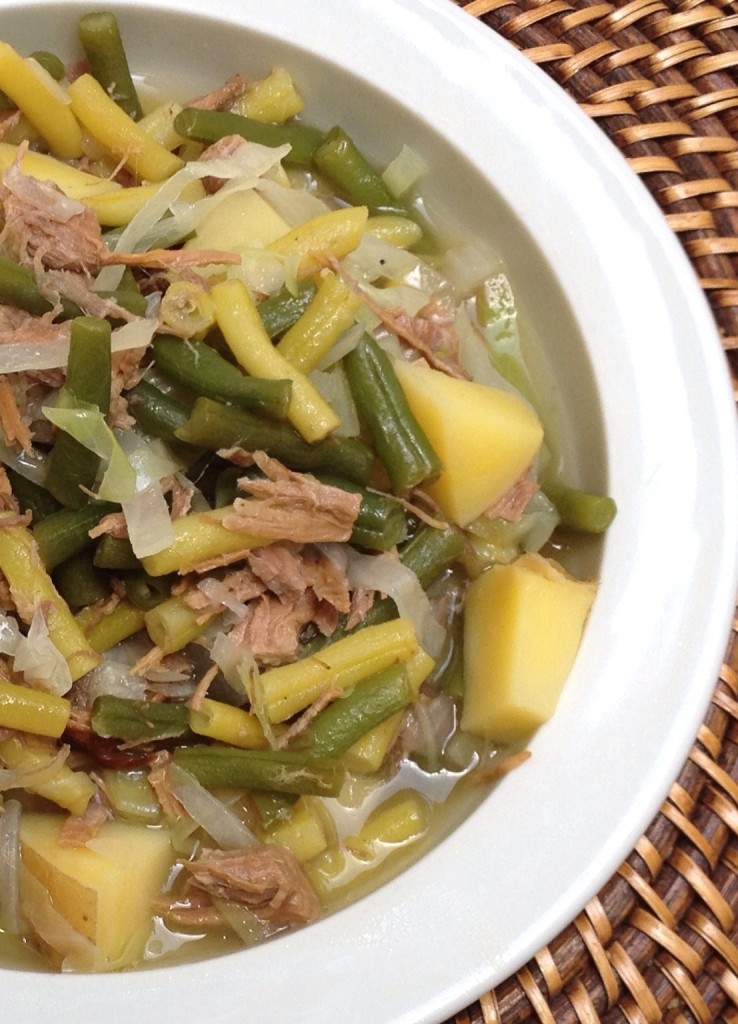 Ham & Potato Soup with Fresh Green Beans & Cabbage
Ingredients:
1 tablespoon olive oil
1 teaspoon butter
1 lb ham steak or left over ham roast cut into 1/4-1/2″ pieces
1 cup chopped sweet onion
3 cups cleaned and cut raw green  beans
4-6 cups filtered water
2  lbs new potatoes (yellow or red variety), washed and cut into 1/2″ cubes
1/2 -1 small head of regular cabbage or Napa style cabbage, washed, cut into 1/2″ strips
optional – 1 1/2 lbs fresh green (snap) beans, washed, snapped & cut into 2″ pieces
optional – 2 tablespoons fresh chopped mint
Salt and pepper to taste
Directions:
If you are using  a ham steak, start the process with that. If you are using leftover roast, start the process with the onions.  A heavy stainless pot works equally well in this process. I've cooked this on a camp stove with heavy professional grade stainless without any difficultly. Raw, uncured spring sweet onions work really well because they have more liquid in them than the store bought or later season onions.
Melt the butter and olive oil in a large dutch oven over medium heat and add either the ham steak pieces OR the raw onions to brown them.  Be patient and don't  burn either in the process. The slow browning is what will add flavor. Caramelizing the outside it is perfect. You will need to add your onions about halfway through the process (or the ham if it's a pre-cooked roast), watching the heat of the pan. The sugar from the raw sweet onions will help the process as you cook the onions.
If you are using leftover ham and frozen caramelized onions, this process will happen much quicker than starting from scratch and a little higher heat often works better to caramelize the ham. Sometimes I use onions that are already caramelized and frozen. The process happens much quicker when you use that method and I just add those when the ham is ready and proceed to the next step. You can also rehydrate onion slices and use them in this recipe if you are camping. If you happen to have some white wine around and you are inclined to use it, you can deglaze the pot when you finish this step with about 1-2 tablespoons of wine, but it's not a requirement for a great result and it only requires a bit of wine or broth.
As soon as you are finished with the ham and onions add 4-6 cups of water to the pot.  Add about 3-4 cups of water if you wanted a thicker soup/stew. Add more if you prefer a bit of broth. I think the broth is very filling and flavorful in this recipe so I opt for more water when I make it. If you have the ability to heat this before hand, that is great so the pot doesn't cool down during the process, but it will work fine with cold water, which is what we use at the farmers' market demos.
Add in your potato pieces, green beans, salt & pepper, cover the pot, and bring to a boil before reducing to medium heat. The goal in this step to to cook the potatoes and green beans most of the way and this will take about 15-25 minutes depending on the type of pot and the amount of liquid you decide to add. (The green beans are a modification to this recipe that we particularly enjoy during the early summer growing season. If you don't have fresh, then I would suggest you skip them. Frozen don't work as well and the canned type tend to fall apart to much and not add the same flavor because they are packed in sugar and salt)
Slice or (large) chop your cabbage so that it will easily fit on the spoon with the other ingredients. Add that to the top of the boiling potatoes and ham and put the lid back on the pot. It's not necessary to stir at this point because the cabbage will steam as the potatoes are finishing. Napa cabbage is particularly fast in this process, taking about 5 minutes. Regular green cabbage can take up to 10 minutes so adjust your potato cooking time accordingly.
Stir at the very end to make sure your cabbage if finished and adjust any final seasonings or cooking time before serving.
Notes
June 2011: Made this using both green and purple cabbage and it is much more colorful! Added a new picture which doesn't give it justice.
June 2012: Made this with 2 colors of green beans and shredded the cabbage. Caramelized the onions first and then added the ham roast and other ingredients. I pre-baked a mess of potatoes the night before for several recipes including the famers' market demo.  Took less time to prepare the final dish, the potatoes held together better and the color was more beautiful.
August 2012: Yesterday I used about 1 lb of baby bok choy (you need the smaller more tender stalks for this to work) and about a half dozen sweet potato green leaves from Four Leaf Farm (Durham Farmers Market) sliced very thin along with about 1/2 lb of bacon to change the recipe up a little bit.
I cut the bacon into small 1″ squares and just fried that up in a Le Creuset Dutch oven until it was browned. Then I used paper towels to sponge out most of the grease. Added bite size Corolla (like a baby Yukon yellow potato) pieces of potato with the skins on (they are thin skinned) and browned those a bit with the lid on. Next I added the tender slices of bok choy stalks to brown those quickly. That took no more than 3-4 minutes. No need to add any more fat.
Then I added roasted onions left over from another recipe (these can be frozen ahead of time as well) along with some liquid from cooking the green beans the other day and covered this to cook about 10 minutes. Next, I added some leftover green beans and the thinly sliced sweet potato leaves & bok choy leaves and just warmed it for about 5 minutes.
All of this took about 1/2 hour using leftovers and the flavor was quite a bit different and wonderful using the bacon as a replacement for the ham. Much more salty, so be careful about adding salt during the process if you try this adaptation.