This is one of those rare soups that you can serve chilled in the summer to relieve the heat or warm in the winter to fill your tummy with delightful goodness. If you make this during the summer, you might consider reducing the amount of potatoes a bit so the soup is thinner or adding a bit more stock. We prefer it a bit thicker in the winter and I have adjusted the original recipe from Chef Jacques Haeringer (who apparently learned to make it from his father; who learned to make it from Chef Lucien Diat in Paris). So there's your history lesson.
Of course, shortcuts make any recipe like this the most useful. Most of the recipes from Chef Haeringer start with a solid stock base that just takes too much time for most cooks so pick a good brand and keep it on hand. Potatoes and onions are a couple of those things that most of us keep in the pantry so you are on your way to making this soup. I was able to get most of my ingredients locally except for the parsley since it's out of season. Several farms around the Piedmont are using double and single hoop houses to continue to produce great food and the potatoes picked in the early fall store well into the winter.
I tend to use my stock ingredients from the freezer and pantry to build the flavor as fast as possible. In this recipe I've changed out and reduced some ingredients to make this more healthy without eliminating flavor. The frozen onions are sauteed in olive oil instead of butter and my stock is made using a pressure cooker to cut the cooking time to less than half and then frozen. Cutting things like potatoes smaller helps them to cook a few minutes faster. All of these small changes can add up to a half and hour of reduced cooking time without increasing the prep time.
I've also tried different potatoes over the years in this recipe. Originally the recipe called for those big high starch baking potatoes. I think the large potatoes don't add as much flavor as some of the heirloom or local potatoes that we are able to get in North Carolina. Small red new potatoes don't seem to have enough starch for the soup and don't puree kind of mealy. The medium starch potatoes like Yukon or something local that is similar in a buttery flavor and a yellow color work really well and give the soup a beautiful color when it's finished. That said, use what you can find that is the freshest and has been stored properly to maintain the flavor. A rubbery potato is just not going to produce a good soup.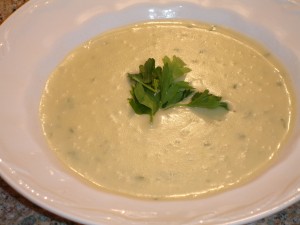 Ingredients:
1 tablespoon butter + 1 tablespoon olive oil
1 cup chopped sweet onion (or 1/2 cup frozen caramelized onions)
1 cup washed, finely chopped leeks
1 tablespoon flour
4 cups chicken stock
4 cups new yellow potatoes (medium starch), peeled & chopped to 1/2″ pieces
1-3 teaspoons salt (please adjust for your stock)
1/4-1/2 teaspoon pepper
1 cup heavy cream (1/2 & 1/2 will work as well, cream is a bit sweeter)
1 tablespoon finely chopped fresh chives (can sub. tops of green onions but don't use dried chives)
1 tablespoon finely chopped fresh flat-leaf parsley (do not use dried)
1/4 teaspoon Worcestershire sauce (can be eliminated)
Optional – pinch of cayenne pepper or dash hot sauce
Directions:
Melt the butter and olive oil in a large dutch oven over low heat and add the onion and the leeks to cook until translucent (about 10-13 minutes) but do not brown. If you are using frozen onions just wait to add them until your leeks are finished. (I have not tested freezing pre-cooked leeks yet). Stir often to avoid browning or burning. I normally cover them to sweat them and retain some of the moisture.
Add the flour to the leeks and onions and stir in well.
Add the chicken stock and bring to a full boil before adding the potatoes, salt & pepper. Cutting the potatoes smaller helps reduce the cooking time. Cook about 10-15 minutes until the potatoes are tender.
Puree the soup in a food processor or blender. If you want it superfine, then push through a strainer after you process it. I normally skip the strainer.
If you plan to serve this cold than chill the soup at this point and whisk in the cream , chives, parsley and green onion tops right before serving. If you plan to serve this warm then you can slowly add the cream and warm the soup. It's also possible to warm the cream for a minute in the microwave and then add it to hot soup. The fat content of the cream will help keep it from curdling. If you plan to add a thinner milk then watch the temperature or bring the milk up to the soup's temperature before adding it. With thinner milks you might consider doubling your flour in the recipe to help thicken it more since the water content of the milk will be higher.
Comments:
I have not tried substituting corn starch in this recipe for gluten-free but I think maybe arrow-root or rice starch would work better for the flavor mix with potatoes. I have not tried substituting a non-dairy milk or evaporated in this recipe yet. I have also not tried to freeze the base of this recipe yet so I'm not sure how the potato puree in stock will react. When I do, I'll make some new notes on this page.