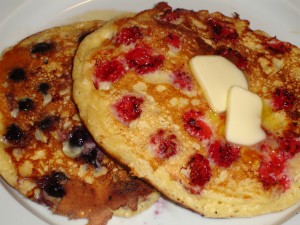 I love the creamy texture and rich flavor of these pancakes. The raspberries came from my backyard garden and the blueberries came from a local organic farm because my bushes are not producing yet. I froze both fruits as soon as they came into season so that I could enjoy a "second harvest" from them in several recipes over the winter.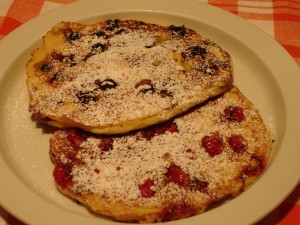 I adapted this recipe from Fine Cooking April/May 2009. I found the original recipe to be extremely sweet for my taste and difficult to cook. The volume of sugar in the original recipe caused the pancakes to burn before they cooked all the way. By reducing the amount of ricotta cheese I was able to reduce the amount of sugar by half and still maintain a delightfully creamy texture. The pancakes cook more evenly with the changes and require less attention.
This recipe easily feeds 4 people. I have served these with maple syrup and powdered sugar. Raspberries are not as naturally sweet as blueberries so I prefer the blueberries. The base recipe is equally good cooked up plain and served with apricot preserves or apple butter instead of syrup or powdered sugar. As an additional option, you could also use your blueberries or raspberries to make a simple berry sauce for the plain pancakes.
Ingredients:
3 large eggs, separated
1/2 -2/3 ricotta cheese (drain the excess liquid before measuring)
2 1/4 cups low-fat buttermilk
2 1/2 tablespoons raw sugar
2 teaspoons vanilla extract
3/4 teaspoon salt
1 cup all-purpose flour
3/4 cup whole wheat flour (pastry flour if you have it)
1 teaspoon baking powder
1/4 teaspoon baking soda
1 1/2 cups frozen blueberries or raspberries (don't thaw) or use fresh
Directions:
In a large bowl, whisk the egg yolks and ricotta cheese. Whisk in the buttermilk, sugar and vanilla extract.
In a small bowl, stir the flours, salt, baking powder, and baking soda with a whisk to break up clumps. Fold this dry mixture into the egg yolk mixture and mix until combined.
Beat the egg whites in a clean, dry bowl until they hold firm peaks. Fold them gently a third at a time into the egg/flour mixture.
Pour about a 3-4″ pancake on a griddle or cast iron pan on medium low heat and begin cooking. As the pancake sets up, add your fruit around the pancake and continue to cook until the batter has bursting bubbles and is ready to turn. Watch carefully for burning.
Turn and continue to cook until the other side is golden brown.
Serve with maple syrup or powdered sugar and butter.
These will freeze well for a couple of weeks if you wrap them in parchment paper and then aluminum foil. Reheat each of them for about 2 min at 30% power to thaw and then about 30 seconds on 50% power to finish heating through.