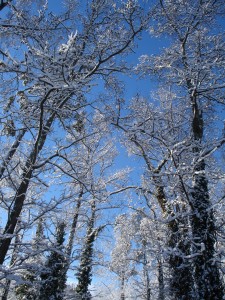 Well the weather forecast calls for a bit of snow tonight and more over the weekend.   I do not enjoy the whole driving experience of snow & freezing ice that we normally get here in Raleigh. So I'll head out in a few minutes for the grocery store like everyone else in town, and get what I need for a couple of days worth of meals.
If you are going to the store, here are a few items you can stock up for this weekend so you can cook up some healthy comfort food. These are going to be quick recipes with shortcuts noted below in your shopping list. If you have things already cooked and in the freezer those will work even faster for these recipes.
Chicken Pot Pie – pick up a pre-cooked chicken, a half quart of chicken stock (you can freeze extra if you buy a quart), 1 cup chopped carrots, 1 cup chopped celery, 1 cup chopped onion, a small bag of frozen baby green peas, a pint of half/half or small can of evaporated milk.  A bay leaf, bit of Italian spices, thyme, rosemary (if you like it), roasted garlic, and 2 rolled pie shells of your choice or make your own. If you don't like veggies in your chicken pie, you can eliminate the carrots and peas but you can't eliminate the onions and celery – you can puree them.
I've adapted this recipe so you can make it quickly using pre-cooked chicken and chopped veggies from the salad bar. Don't worry about making your own pie shell either, the rolled pie shells in the refrigerated section will give you great results with a little tinkering. If you are concerned about calories or don't want to work with pie shells, you can use biscuits  (make your own or pick up some that you like) on the top of the chicken pie in ramekins or in a large pie pan or just put a top pie crust on it in the pie pan. Over the years, I've done it all these different ways depending on where I was cooking and what food and tools were available to use.
Ricotta Berry Pancakes – pick up a quart of low-fat buttermilk, small container of ricotta cheese, eggs, and a small bag of frozen blueberries or raspberries. Fresh berries are great too, but not critical.
Look for these recipes later today and tomorrow as I get back into the kitchen after a bit of vacation.