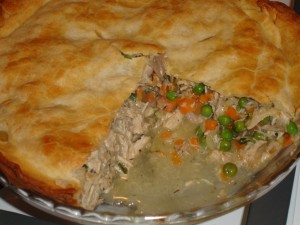 Chicken Pie brings up different memories for people in Piedmont NC. The most famous of pies around here is the Moravian Chicken Pie which is luscious and thick with chicken and a home-made crust. If you can find someone to make it for you, you are truly blessed.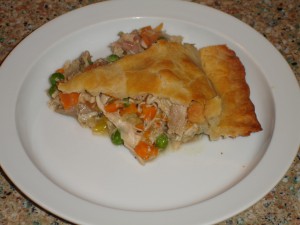 What I'm going to show you is way to make either a traditional Chicken (only) Pie or a Chicken Pot Pie with all of the veggies to complete your meal in one dish. This is going to be a second harvest of many of the lovely spring and summer vegetables that I've already pre-cooked and frozen at my house. You can use some store-bought items from the salad bar and hot bars to cut your time in half and still come out with an outstanding meal. As you can see from my pictures, you can combine the two types of pies.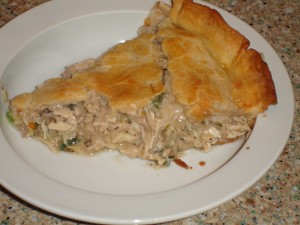 Typically, I already have pressure cooked chicken and broth in my freezer as well as sautéed heirloom celery, onions & carrots, and frozen green peas. In this recipe, all of the veggies and the chicken & broth have come directly from local, sustainable, non-chemical farms. Most of the time, I keep rolled refrigerated pie crusts in the fridge. I started using the Immaculate Bakery Ready-to-Bake pie crusts because they don't use hydrogenated oil. Having said that let me point out two things. These pie shells have a bit of rice flour so they can be tedious to work with if you do not let them come up to room temperature. I find that just re-rolling them with a bit of flour produces a light and lovely pie crust so when I have trouble, I just use some wax or parchment paper and get out my rolling-pin.  For many years, BC (before children) I made my own crusts.  I ALWAYS roll the commercial crusts just a tad thinner to get a better finished product. They are rolled thick at the factory so they won't tear easily, but they just don't cook all the way through. So plan on just 5 minutes with your rolling-pin and no one will know that you didn't mix the crust yourself and the effort is well worth the result.
Ingredients:
3 cups chopped cooked chicken (for pot pie) OR
5 cups hopped cooked chicken (for chicken only)
3/4 cup chopped sweet onion (both pies)
1 cup chopped celery w/leaves (both pies)
1 cup chopped carrots (pot pie only)
1 cup frozen green peas (pot pie only)
2 tablespoons butter
2 tablespoons olive oil
2 tablespoons flour
2 cups chicken broth
1 cup milk (more fat=richer flavor)
1/4 teaspoon dry poultry seasoning
1 teaspoon chopped fresh thyme
1/2 teaspoon chopped roasted garlic cloves
1 tablespoon chopped fresh chives
1/4 cup chopped fresh flat leaf parsley
Salt & pepper to taste
2 pie shells & deep dish pie pan
Directions:
Saute the celery and onions in 1 tablespoon of olive oil using a lid to help steam the veggies as you cook them until the onions are translucent and the celery has started to soften.  Remove from pan and put in a bowl with the cooked chopped chicken. If you dislike the texture of the celery and onions in your pie, you can puree them in a food processor at this point and then add them to the cooked chicken.
Use the same pan to lightly saute the carrots until they just begin to soften and add those along with the frozen peas to the chicken and onion/celery mix. You can use a bit of the chicken broth to cook the carrots instead of adding more fat to the pan. It is also possible to microwave your carrots in a bit of broth. Be very careful not to dry out the carrots in the process and don't cook them all the way through or they will turn to mush in the pie. Skip these two veggies if you want a plain chicken pie. It is not necessary to pre-cook the peas because they require so little cooking that they will completely cook in the pie.
Next you will make a light roux. Melt the 2 tablespoons of butter and 1 tablespoon of olive oil in a pan on med/low heat and add the flour. Blend the two together and cook for a couple of minutes. Do not brown.
Add your chicken broth to the flour mixture. Using a gravy whisk, blend the flour and broth together. Add the thyme, poultry seasoning & roasted garlic. Stir or whisk the mixture while it's simmering for a couple of minutes on medium heat to thicken the sauce for the pie.
Turn the heat down to low when you are finished and add your milk. To avoid curdling the milk, you can warm it before adding it to the hot broth in the microwave for a minute on 50%. Or you can "temper" the milk by adding the hot liquid to the cold slowly and blending it so the cold liquid comes up to a higher temperature before you add it back into a hot pan.
Once you have the two liquids blended, continue cooking on med/low heat so that the sauce thickens. Taste the sauce for salt and pepper. I normally do this last because every broth has its own set of flavors whether you make your own or buy the stock. After you add the milk you will find many of the spices mellow out a bit.
Add your fresh parsley & chives to the sauce. Add the sauce to the veggies & chicken. Do not worry if your finished mixture seems loose. You are going to let this set for 15 minutes before you put it into a pie shell so you don't warm the pie shell. During that time, your chicken will absorb a lot of the sauce and that's what makes the chicken tender when you finish baking your pie.
Using some parchment or wax paper, roll out your first pie crust on a bit of flour. I have found that adding a bit of flour to the top and bottom of a commercial pie shell helps it become just a bit drier and more flaky in the baking process. You want to have a little larger bottom shell so that you can form a seal between the top and bottom pie crusts.
Place your bottom shell in a deep dish pie pan and refrigerate it if your filling is not really close to room temperature yet. If you fill the pie shell too hot, it doesn't recover and it stays soggy. Once the filling is cool, you can add it to the pie pan and add the top crust.
Roll the edges together tightly so you don't have any leaking out of the edge. This pie is so dense that it doesn't really bake well if you use a cookie sheet under the pie pan. I have used just a piece of foil under it with success.  Cut four vents in the top pie crust.
Egg wash the entire top pie crust (1 beaten egg/1 teaspoon water) and cover the edges with a pie cover or foil.
Bake at 425F for 45-60 minutes, until the top is golden brown.