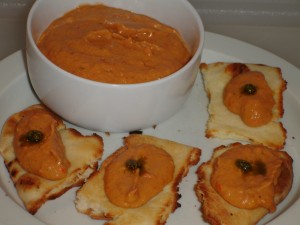 This recipe came to me a couple of weeks ago from the folks at Cooking Light. Here's the link: http://bit.ly/gsydFN . I thought it was really easy to make and quite healthy. I  was able to use some wonderful organic red and yellow peppers and garlic that I bought at my local farmers market during last summer. I roasted and put everything in the freezer as soon as I bought it to retain the flavor for winter recipes. This also brings the cost of this recipe down significantly.  I made two versions of it with the additional of the basil pesto being optional because the base dip is absolutely delicious without it.
Here are the adjustments that I made to the recipe. The original recipe called for fresh garlic, I used roasted for a sweeter flavor and adjusted the amount up a little bit. It called for any type of balsamic vinegar but I used a 10 year aged for a richer syrup flavor. More aged would increase the sweetness if you have it in your cupboard. I already had roasted red and yellow peppers on hand that had not been stored in liquid or oil so I didn't need to do anything to my peppers. They have a sweeter flavor than store-bought when you roast and freeze them yourself. I used a first cold-pressing, organic olive oil from Italy.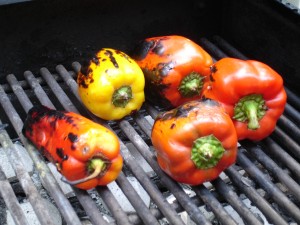 If you haven't roasted peppers before, you will find it easy and rewarding to try it out this summer. They store great in the freezer and thaw quickly on the counter. You simply put them on the grill whole, without any prep except a good rinse. You turn them periodically with some tongs to "roast" them until they are ugly , black and charred all the way around. Then they get shoved into a clean, recycled brown paper bag and closed up for about 5 minutes to steam the skins.  Next you carefully peel (wipe) off the thin layer of skin to reveal a beautiful red or yellow colored pepper again. Break the peppers in half to take out the seeds and pick off the upper stem of the pepper. Put the steamed skins, stem and seeds back in the brown paper bag and throw the whole mess into the compost pile. How easy is that?
The roasted peppers get sliced into 1/4″ wide strips, weighed out about 2 1/2 ounce piles and put into a plastic snack bags with the date and weight label. If there is some juice from slicing them, I simply put this in the bag or save it and throw it in the freezer separately to use in rice or another recipe later. The peppers are double bagged into a larger freezer bag to avoid breaking once they are cold and off to the freezer they go.
I thought this recipe was excellent both with and without the basil. The dip was delightfully sweet with the roasted garlic, roasted peppers and aged vinegar. The dip had more layers of spicy flavor with the basil pesto and plain basil. You can always serve it in a bowl with a dollop of basil or pesto in the center for people to add on their own. You can serve this with pita chips but my preference was the toasted naan bread which seemed to be less dry than the pita chips.
Ingredients:
1  teaspoon aged balsamic vinegar
5 oz of roasted red peppers
3  tablespoons  extra virgin olive oil
1/2  teaspoon  salt
1/4 teaspoon pepper
1-2  teaspoon(s) roasted garlic
1  can cannellini beans, rinsed & drained (15 oz)
Optional: 1/4 cup of chopped fresh basil or 1/2 teaspoon concentrated Amore Basil Pesto
Using a small food processor, add all of your ingredients and puree until the mixture is smooth.
You can add about 1/2 teaspoon of concentrated basil pesto if you have it handy and like the little bit of spicy flavor that this adds. If you have fresh basil, you can add the recipe's original 1/4 cup of chopped basil.
This would be lovely served with an assortment of olive and you might try chopping some to serve on top of your pita chips or naan chips.