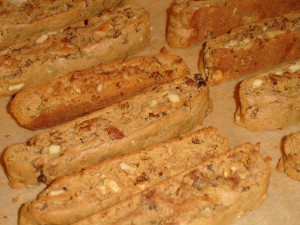 I know the holiday season is over, but I ran out of time to test a couple of biscotti recipes before the new year started. If you had a chance to catch my food demos for figs at Bickett Market or Earth Fare in Raleigh last summer you know that I foraged a lot of figs in my neighborhood and dehydrated them to  use throughout the winter. Since then, I have been searching for some new recipes.
The web provided me with several similar recipes, but all of them seemed to contain a huge amount of sugar compared to my older recipes, so I made some adjustments and thankfully (unlike the 3 trials of pumpkin pudding back in December), these turned out great and the recipe is forgiving and flexible.
This recipe will produce 12 fairly large biscotti that are 3/4-1″ thick and high; or about 18 if you cut them about  1/2″ thick x 1″ high after the first baking. They will be softer with the baking times I've listed if you cut them thick like I did. You can increase the bake time with the thick ones to get more crunch or just cut them thinner and keep the same back time. Just watch for burning as the figs have a fair amount of sugar and I've used date and dark brown sugar which can burn more readily. If you were inclined, I think you could add a little bit of finely chopped candied ginger with the figs and walnuts but be sure not to overpower the apricot preserves. These will be fine without the preserves if you don't have it on hand. Likewise, please feel free to use unbleached white flour or a combo of half white half wheat if you don't have the specific "white/wheat" from the store.
One additional note on the figs: The home dehydration method for figs leaves them quite a bit dryer than commercially bought dried figs. I simply steamed mine for about 3 minutes just to add some moisture back into the pieces without making them sticky and soggy.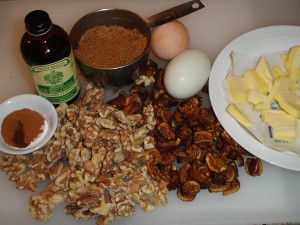 Ingredients:
1 cup rough chopped toasted walnut pieces
1 cup dehydrated figs rough chopped (I used local figs and rehydrated a little bit)
6 tablespoons salted butter at room temperature
2/3 cup packed dark brown sugar
2 tablespoons date sugar (no lumps)
2 eggs at room temperature
1 teaspoon Grand Marnier or 1 tablespoon grated orange zest
1 teaspoon vanilla extract
1 tablespoon apricot preserves
1 ½  teaspoons maple syrup
1 ¾ cup whole wheat-white flour
1 teaspoon baking powder
1/4 teaspoon baking soda
1/2 teaspoon fine sea salt
1 teaspoon ground cinnamon
1/4 teaspoon. ground nutmeg
1/8 teaspoon ground cloves
Mixing & Baking:
Rough chop the toasted (cooled) walnuts and dried figs and set aside together.
Cream the butter and both sugars together well. Add the eggs, one at a time, beating each until it's incorporated well.
Using a whisk in a large bowl, mix the flour, baking powder, baking soda, salt and spices.
Add the dry ingredients into the egg & butter mixture a third at a time.  When finished, the dough will be quite stiff.
Fold in the walnuts and figs by hand with a spatula until they are well combined. Wrap the dough tightly in plastic and chill 30 minutes to reset the butter.
Place a large piece of parchment paper on your baking sheet and use your hands to press the dough into a log the length of the baking sheet as quickly as possible to avoid warming the butter.
Form a rectangle that is 4-5" wide and about 1" high. The length should be determined by the size of your baking sheet. Try to keep the log as even as possible to avoid uneven baking results.
Bake at 350F for 20 minutes or until the top seems set and lightly browned. Let it cool for about 10 minutes on the baking sheet when you pull it out.
Then using a knife (most people use a serrated but I find a standard chef's knife works well with nuts), cut your biscotti into ½ – ¾ " slices and turn on their side for a second baking on the parchment paper.
Bake a second time for about 7 minutes and then turn over to the opposite side and bake another 7 minutes.
Baking time is determined by the thickness of the slices and how hard you want the final biscotti. If you like drier biscotti, cut them thinner and bake the full 7 minutes or longer but watch for burning or too much browning.