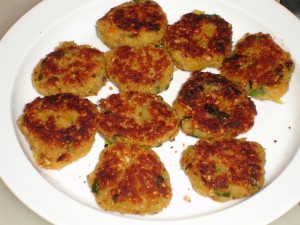 This recipe isn't going to be for everyone but it's healthy, easy, and has a lot of veggie flavors in it.  These are great warmed up with a bowl of soup  or put into a pita during the colder months. They are also lovely in the summer as chilled finger-food.
This recipe came about as a result of a mistake that I made while testing a new lentil "burger" recipe. I got busy and forgot to check on the lentils as they were cooking. So they basically turned to mush. They were cooked in home-made chicken broth so I wasn't about to throw the mush out! I hate wasting anything and the mush tasted good but certainly wasn't pretty.
I decided to continue to assemble the original ingredients. It became pretty clear that the recipe was going to be entirely too bland. The stuff in the bowl looked a lot like falafel so I  went back to the freezer and pantry for a few more items like garlic and onions that I had already cooked and put up in the summer and fall.  When I was finished , the raw ingredients tasted pretty good (there's no egg so you can taste away for seasoning), so I proceeded to saute the little patties in olive oil for additional crisp and flavor. You can make these more like balls if you want but then you have to spend more time turning them or use more oil. Not my cup of tea.
This recipe is flexible so you can add or subtract the amount of stronger ingredients like garlic and onion to suit yourself. These would be great with some herb goat cheese and chopped sweet roasted red peppers to the top for an appetizer at a party.   You might try adding a little shredded zucchini  (press it dry before adding it) during the summer when it's in season. They are also great served with roasted thyme asparagus stalks (recipe coming later this week).
Ingredients:
½ cup dry red lentils
1 ¼  cups water
½ cup quick cook steel-cut oats
¼- ½  teaspoon salt
Pepper to taste
¼ cup roasted (sautéed) onion
¼ cup shredded carrot (steamed)
1 tablespoon finely chopped green onion (raw)
¼ cup fresh chopped flat-leaf parsley
¼ cup dry herb bread stuffing
1 ½ teaspoons soy sauce
1 teaspoon Worcestershire Sauce
Olive Oil
Preparation:
Bring the lentils and water to a boil and reduce heat to low. Cook until the lentils are almost mush, but don't let them burn.
Add the quick cooking steel-cut oats to them along with the rest of the ingredients and form either small burgers or small appetizer size balls.
Cook in a non-stick pan with a bit of olive oil until they are browned and crispy on both sides.
Serve in a pita with chopped cucumbers and tzatziki.
Notes:
The Whole Foods 365 organic stuffing mix will work for this recipe. It's also possible to use your own home-made bread crumbs from day old bread.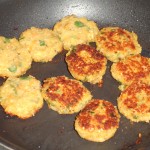 You can also add about 1/2 teaspoon baking powder to these to get them to rise a bit.
I haven't tried to freeze these yet. But I'll post a note when I do.