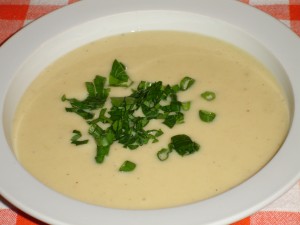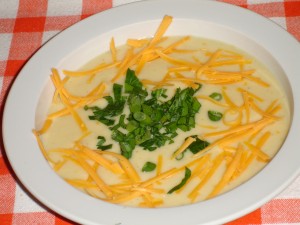 Potato & Leek soup goes so well with a grilled ham sandwich for lunch or dinner and it's super fast and easy to make.  The original recipe is one of Jacques Haeringer's but there are many you can find on the web that are similar.  All you need are some small buttery medium starch local potatoes (like Yukon), a couple of leeks, some chicken broth, a bit of chopped sweet onion, milk or cream and you're set. It actually takes more time to prep the veggies for the soup than to actually make the soup. You can make it a day or so in advance and it will keep in the fridge just fine. There are no special cooking skills necessary for this soup.  My only word of warning is that you really need to wash the leeks well. They are notorious for harboring sandy soil as they push up through the ground and grow. I've added some pictures so you can see how the dirt hides in these guys. You don't want it in your soup. There's no way to fix it if it gets in there.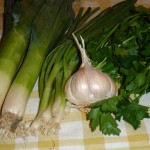 Ingredients:
3 tablespoons virgin olive oil
1 tablespoon butter
1 cup chopped washed leeks
1 cup chopped sweet onion
1 tablespoon flour
1 quart chicken broth
1 clove roasted garlic, chopped
4 cups chopped, peeled small Yukon type potatoes
1 teaspoon sea salt
1/4 teaspoon pepper
1 cup half/half or whole milk
1 tablespoon fresh chopped chives or green onion tops
1 tablespoon fresh chopped parsley
1/4- 1/2 teaspoon Worcestershire Sauce
Pinch  ground cayenne pepper
Pinch ground alpeppo pepper
Bacon pieces for topping
Directions:
Heat the butter and olive oil over medium low heat in a dutch over or large stock pot, without browning the butter. Add the onion and leeks and saute them without browning them until the onions are translucent. This should take under 15 minutes.  Stir in the flour and blend. (Eliminate the flour if necessary for diet)
Cook for another couple of minutes without browning the flour or the veggies.
Add your chicken stock and bring to a full boil. Make sure to whisk the flour and onions into the stock well as it's heating up to avoid lumps.
Once it's at a rolling boiling, add your chopped potatoes, roasted garlic, salt, and pepper. Turn down the heat to medium high and simmer this until the potatoes are cooked through. This will vary depending on the size of the potatoes. Smaller pieces should take about 10 minutes.
While the potatoes are cooking, warm your milk or cream just a bit on the stove or in a microwave on a medium heat. It doesn't need to be terribly hot, just warm to add it to the soup.
Puree the soup until it's smooth. You can do this in a blender, a food processor or with an immersion blender.  Do not overfill your blender or processor because the hot liquid can make quite a mess and burn you if you are not working with it carefully.  You can add your milk in during this process. I normally blend in the chilies and Worcestershire Sauce at this point too.
If you choose to store the soup. Puree it with the spices and freeze, but do not add the milk. You can freeze the mixture for a month and then thaw and serve it later. You can also chill the soup and serve it chilled, adding the cream and toppings just before serving. It's great in the late fall this way when the potatoes are just coming in but our weather hasn't quite turned chilly yet.
If you choose to eat your soup right away, top it with a mix of the fresh parsley, green onions or chives and some bacon pieces. If you lean towards a loaded potato soup, you can add a bit of sour cream to the top and some fresh shredded cheddar cheese too. You might also try to puree the soup just a little and leave some of the potato pieces for more texture.