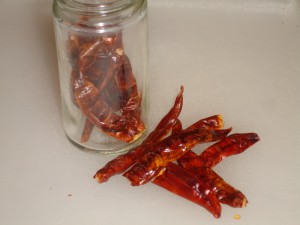 It's been fun researching and trying out new chilies this winter in different recipes. On my quest to make some Asian inspired healthy appetizers this week I decided to mess around with some shrimp. And being a bit lazy, I picked up some shrimp that had already been steamed in my old-time friend "Old Bay". Not really very Asian, but I've already admitted that I was being lazy so let's just go with it and we'll try out some new peppers along the way.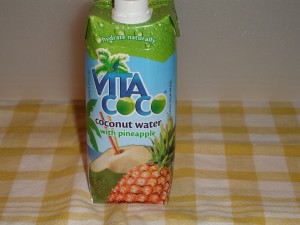 After I made the base for a chicken satay I had a bit of the coconut marinade leftover. It was a lovely color. It smelled good. It tasted good. It was a bit sweet and just a little spicy but workable with my "lazy" shrimp.  These shrimp were not steamed in as much Old Bay as I am used to, being from Maryland. Those of you that have had the spices caked on the steamed shrimp know exactly what I mean! But in the kitchen drawer is an extra container of that delectable spice just for these opportunities.
This soup came together really fast. It was even better the next day after the flavors had a chance to blend in the refrigerator overnight. With shrimp involved, I would not recommend holding this soup more than a day before you serve it and I don't think it would freeze well.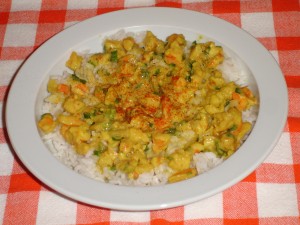 Jasmine rice has a distinct flavor that compliments the seafood and spices in this dish well. The coconut water adds a bit of sweetness to the dish so you can lower the raw sugar that you would normally add to the base ingredients.
This recipe makes enough for 2 servings. It's a fairly thin soup. If you want it thicker you can use regular coconut milk. It blends well and distributes the spices evenly through the rice when you serve them together.
Ingredients:
1 cup of canned light coconut milk
1 teaspoon ground coriander
3/4 teaspoon ground turmeric
1/2 teaspoon ground cumin
1/2 teaspoon sugar
1/2 – 2 teaspoons Old Bay
1/2 Chinese dried red pepper
1 tablespoon chopped green onion
1 tablespoon chopped water chestnuts
1/2 lb Steamed Shrimp (31 count)
Jasmine rice
Coconut water with pineapple
Optional – Cayenne or aleppo pepper
Preparation:
Prepare the Jasmine Rice according to the directions substituting coconut water with pineapple for the plain water. This will take about 30 minutes.
Mix the coconut milk, coriander, turmeric, cumin, sugar, and 1/2 teaspoon Old Bay. Taste the mixture to see if it needs some ground pepper or additional turmeric or old bay. The turmeric helps the soup keep a lovely orange color. The Old Bay will add a significant amount of salt so add this slowly and adjust for your taste. Remember at this stage that depending on how your shrimp were steamed, you may need to add more or less Old Bay.
Very finely chop your Red Pepper and add it to the soup along with some seeds. You can add more after you heat this so go easy to start. I used an entire small red pepper along with the seeds for my soup. The peppers will vary year to year so you'll have to always check the heat on this part of the recipe.
Add the chopped water chestnuts and chopped green onions.
Heat the mixture on medium-low for about 10 minutes and adjust the spices and peppers.You can also add some fresh ground pepper or more dried Chinese pepper and seeds for heat. Aleppo is low on the heat index and you could add 1/4 teaspoon of this. Cayenne is mid range on the heat index.
Chop your shrimp up into small pieces (1/2″ or less) and add to the soup . Warm through and serve over the jasmine rice.  Add sprinkle of paprika to the top of the soup for color and flavor.