As a working mom I understand why most kids and parents don't eat a solid breakfast and why so many people of all ages rely on fast-food. For years I traveled for work and I really struggled to find ways to cook on the weekends and save food in the freezer or refrigerator that someone else could reheat and feed to my kids while I was away. As the years have passed, I also found these techniques helped me feed aging family members when they were sick or neighbors that needed a special delivery of a nice treat.
Pancakes are easy, delicious & nutritious right out of your freezer.
Over the years, I have run "freezer tests" to determine the best way to make a stack of pancakes and freeze them for use later when I'm in a rush. What I found is that all sorts of pancakes freeze well. I've made plain ricotta and ricotta with berries. I have also frozen low-fat buttermilk pancakes. And a few months ago I froze some sweet potato and pumpkin pancakes after a farmers market demonstration.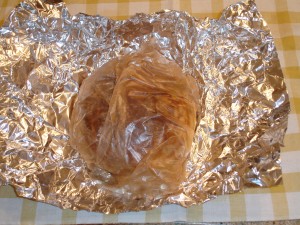 Adding low-fat organic ricotta cheese, local pumpkin and sweet potatoes all  help keep your pancake base moist and seem to freeze well when wrapped appropriately (more on that in a moment).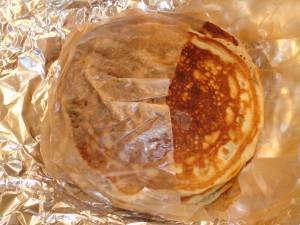 For blueberries and raspberries, I used smaller varieties grown organically at a local farm and in my yard. I also tested the smaller wild Maine blueberries that were available in my local supermarket. All of the fruit was frozen, thawed, and then cooked in the pancakes and re-frozen a second time. All of it did equally well for flavor retention, color and texture.  If you don't want to add berries into your batter, just warming the berries quickly for about 3 minutes on medium heat with a tiny bit of sugar, nutmeg and lemon juice until they just pop creates a great simple sauce to pour over your pancakes.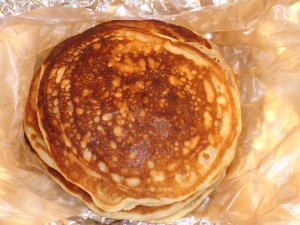 My buttermilk pancake recipe uses non-fat organic buttermilk so they are the lowest in fat content of all the types I cook. They held their height and texture when frozen and were moist when reheated, much to my surprise. I really thought the lack of fat would cause a problem when freezing. What I found was that lower temperature (50%) reheating was optimal for this recipe.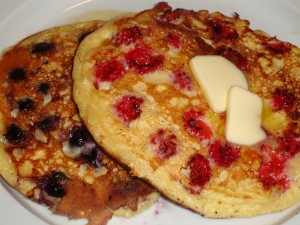 The recipes that I use for sweet potato and pumpkin pancakes use low-fat milk (either 1% or 2% milk). I rarely use skim milk. If I'm going to opt out of all of the fat, I would rather use almond or coconut milk to add more flavor. My sweet potato and pumpkin is roasted and then packed in small containers so it thaws quickly when I need it. Despite the low-fat content in both recipes, they seemed to freeze, thaw and reheat well thanks to the moisture in the vegetable base.
Freezing the Right Way:
What I discovered with these tests was that wrapping makes a difference. The most successful tests included a small square of wax paper or parchment paper between each pancake to avoid having them stick together when they are freezing. Then the whole stack gets wrapped in wax paper. Next, wrap the stack in aluminum foil. I used both regular weight and heavy-duty. The regular weight works well except in the case of "recycled" foil. The "recycled" foil tore easily and left the pancakes open to freezer burn. Make sure to use some freezer tape to label and date your pancakes because the "sharpie" pen won't be legible on the foil after a period of time. I normally only freeze these for a couple of weeks to a month. You can reuse the foil because it doesn't touch the food and the wax paper can be used for reheating the pancakes to retain moisture.
Many of you may not use a microwave. To be honest, I am not convinced it's a healthy choice but I use it for reheating many items because it's fast. For frozen pancakes you need to thaw them in the refrigerator overnight and in the morning put them on a plate (preferably no more than 2 at time) and reheat them "gently" on a 50% setting for somewhere between 30 seconds and 1 minute. I always cover my food with wax paper to avoid splattering the microwave and to retain moisture, which is crucial for the pancakes. Overcooking will occur if you leave them  in too long or if you heat them on a high setting, so you'll have to experiment with the timing. But the low heat setting helps you to reheat verses "cooking" them. It is also helpful to only cook your pancakes so they are "done" initially and not try to brown them too much as they lose moisture in the process of cooking them initially. They will not be as pretty, but they will taste better if you plan to use this method.
I think this is a great way to get your kids cooking and show them the benefits of planning out meals and using local fruits and dairy products that help them grow. It can also help make empty-nesting or taking care of an elder family member super-easy and special when you bring over a treat like home-made pancakes for them.
Here are the links for my Ricotta & Local Berry Pancakes http://bit.ly/eMzlX7 & Local Sweet Potato Pancakes with Carolina Pecans http://bit.ly/arN4th