Two falls back, Murray & Esta Cohen had the largest heads of cauliflower I have ever seen in their little vegetable garden. My experiments with cauliflower soup were endless and Murray was a really good sport about trying every variation of soup that I brought over. I finally developed a couple of recipes that would freeze well and I was looking forward to making them this fall. Then we had what can only be described as crappy weather late in the summer. It was really hot one day, it was really cold the next, there was no rain, then too much rain; all in all, it was not cauliflower weather.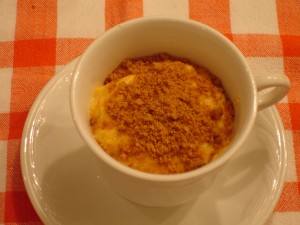 As it turns out, this was my year for pumpkins. I have really tried to develop a pumpkin custard recipe that tastes as good as a pie filling, but is simple to make and eliminates the calories and frustration of pie shells. I have used up a lot of good eggs on this project and the finished custards look nice enough. Unfortunately, they are not as tasty or nutritious as I would like, so my work on this front continues slowly.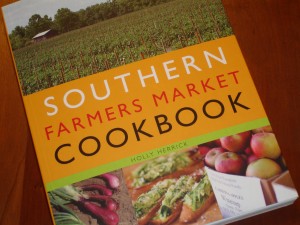 On my recent trip to Boone I stopped at one of my favorite bookstores, Black Bear Books, and got a pile full of books to look through. I'm sure you know how this ends….the book that made it home was "Southern Farmers Market Cookbook" by Holly Herrick. It's got great photos of how the food should look and easy recipes that a basic cook can put together quickly. Exactly what I need for my upcoming market demos.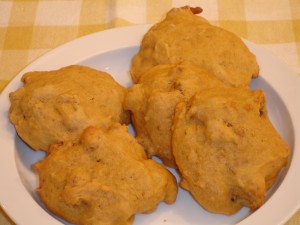 The Pumpkin Cookie recipe is great. I didn't have the lemon extract so I used some lemon zest and I used butter for "shortening". The recipe calls for walnuts so I tested those along with some local  toasted pecans. I liked the pecans better. I think the texture and flavor of toasted pecans works better with roasted pumpkin.  The cookies are kind of a cross between a pumpkin scone and a very light biscuit.

With plenty of roasted pumpkin in the freezer I decided to try to make a small batch of soup.  On a recent trip to Savory Spice I picked out several new chile powders to try and pumpkin is pretty versatile in the spices you can add to it. This recipe has ranges in the spices because some folks like it hot and some don't; and some folks really enjoy cumin and others do not embrace it. So adjust it according to your taste.
Spicy Roasted Pumpkin Soup
Ingredients:
2 1/2 cups roasted pumpkin
2 teaspoons dehydrated shallots
1/2 cup chopped celery
1 1/2 cups vegetable broth
1 1/4 cups coconut or low-fat milk
1 – 1/2 teaspoons cumin
1/2 teaspoon Aleppo peppers
Pinch mild Chimayo chile powder
1/4 teaspoon hot sauce
Ground mixed pepper
1 teaspoon Murray River Flake Salt
Preparation:

Your pumpkin should already be roasted. I don't normally use olive oil for the pumpkin because it has so much moisture it seems to be fine without it. If you do use olive oil, it should still be fine for this recipe.
Take your dehydrated shallots and put them in a small saute pan and add a bit of water and about 1 teaspoon of butter. Bring it to a boil and then just keep reducing the water on medium heat.  As the shallots hydrate in the water they will also cook in the butter. Cook them on medium-low until they are a bit soft and translucent. Should take less than 5 minutes on low. Set those aside.
Put your finely chopped celery into the pan with a bit of olive oil or butter and saute those until they are soft. I normally do this when the celery comes into season and freeze it. It keeps well and significantly cuts down on the time it takes to make most recipes.
In a large dutch oven add the vegetable broth along with the roasted pumpkin, onions, celery and spices (leave out the salt until the very end) and let it simmer for about 15 minutes with the lid on the pot.
Heat the milk so it's warm. Add it to the pumpkin and spices and then puree the entire thing in batches. Taste for spices and now begin to add the finishing salt, Murray River Flake. You can also add more heat. The Aleppo peppers are mild. The mild Chimayo Chile is medium heat and if you want more heat you can add Guajillo Chile or additional Cholula hot sauce.
Notes:

I like to serve this with some fresh thyme on top with additional hot sauce. I used Cholula brand hot sauce.
You can also add about 1/2 teaspoon of dried thyme or 1 teaspoon of fresh chopped thyme leaves into the soup.
If you don't have dehydrated shallots, use about 1/2 of a good size shallot.
Caramelized onion would add some contrast to the sweetness of the coconut milk if you have them on hand.
If you don't have vegetable broth on hand, you can substitute some powdered veggie broth with water.
This soup freezes well before you add the coconut or cow's milk.