Carrots are one of your cool weather crops. They come in during the fall and many farmers continue to "over winter" them by leaving them in the ground. Sometimes the green tops get eaten early in the spring by rabbits but the roots are still there and taste wonderful in the early spring.
Like many heirloom plants, carrots come in a rainbow of colors from deep purple to red,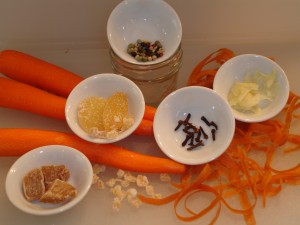 yellow and varying degrees of orange. There are short stubby ones that are great for the container gardener or in places where the soil is hard to penetrate like clay. You can slice or julienne them, shred or puree them. They can be steamed, stir-fried, eaten raw, sauteed, or canned. They have natural sugars that make them ideal for cakes and muffins.  Carrots freeze and dehydrate well. They are such a versatile vegetable that you can enjoy them all year.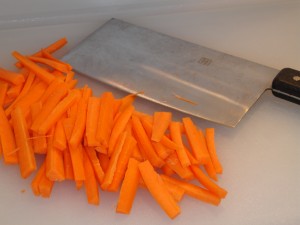 I have really enjoyed pickled carrots from a local restaurant over the years which is what inspired me to undertake making some for an upcoming health fair. I know kids get tired of hearing about your typical carrot stick so I wanted to make some carrots that were just a bit more interesting with some flavors they might not have had mixed together before. Nothing too hot or too sweet. Just something to compliment the natural flavors of the carrot.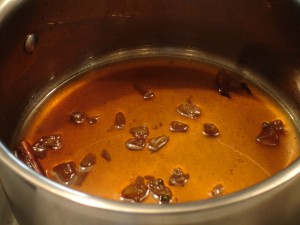 This recipe can also be made with carrots that you julienne and then you can add them to salads or sandwiches. I think they would be especially tasty on a ham sandwich along with some shredded radish. I've listed some variations and substitutions you can make if you want to play around with it. The sustainable carrots you get at your local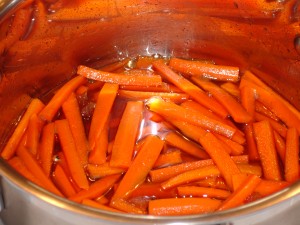 market may be smaller than those in the grocery store so you'll need to adjust the amounts based on that. You can skip the whole peeling part of the recipe by getting baby carrots and simply cutting them up. It might be more kid-friendly and faster to do that way.
Pickled Carrots

Ingredients
4-6 carrots (about 1 lb)
1 1/2 cups rice vinegar
1/4-1/2 teaspoon pink sea salt
1/4 teaspoon ground allspice
8 whole cloves
10 whole peppercorns
1/4 cup candied ginger
2 (3-4″) pieces Indonesian cinnamon
1-2 tablespoons honey
2-3 tablespoons cane sugar (light or dark brown works just as well)
Preparation
Carrots are going to vary in size. You are looking for about 2 cups of carrots cut into wedges that you can eat with your fingers.
Put the rice vinegar and all the sugar, honey and spices into a non-reactive pan and simmer for about 5 minutes.
Add the carrots to the pan or put the carrots into a canning jar and fill with the hot liquid. Screw the lids on or cover the pot and let it sit it all sit and cool down. You can serve these within the hour but they will have much more flavor if you store them in the fridge for a day and then serve them.
Notes
I haven't checked the pH levels of this recipe so I can't tell you whether this recipe is ready to be canned. I simply find the canning jars work well for the hot liquid in this recipe and that's why I use them.
You can change the vinegar to white balsamic vinegar for increased acidity.
You can change the candied ginger to fresh peeled and sliced ginger root for increased spice.
You can change the salt to a smoked salt or any other type of salt.
You can julienne the carrots and use this on salads or sandwiches.