What do you fix when you're at the beach with a house full of people? Pancakes of course! This is one really simple recipe that my family LOVES! I believe it's from a very old "Cooking Light: because it lists the nutrition info at the bottom. They were one of the first magazines to start printing this info many years ago. This recipe only makes enough for 2 people. Most of their early recipes were designed for young couples. But it doubles or triples very well. I have cut back on the oil from the original recipe and added a bit of salt to contrast the sugar.
Over the years I've also tested the amount of sugar: If you like your pancakes with just a bit of butter, then the sugar amount is perfect in the recipe. If you are going to add syrup, you can taper back the sugar by 25% and the pancakes will still be quite tasty. The oil in the recipe helps eliminate sticking to the pan and I've tested the amount over the years to get it to a minimum that I felt worked well with all sorts of pans from non-stick to cast iron. The recipe doesn't have the same texture or flavor when you eliminate it completely. I've also tried using a white-wheat flour but the texture changes quite a bit because of the gluten content and I don't find it appealing for this particular recipe.  I have also tried it with egg white. It doesn't work well. Too light in my opinion.
During the recent Cooking Education Demo at Western Wake Farmers' Market we  re-hydrated Western NC Apples with a little water, cinnamon & nutmeg and also gently cooked some NC pecans in local butter and Western NC Maple Syrup until they were candied and sprinkled just a little of the Savory Spice Murray River Flake Salt on them before using them in the pancake. We also cooked the pancake in coconut oil and substituted coconut oil in the pancake to impart a little more flavor. The result was a surprisingly light pancake with an immense amount of flavor.
 
Buttermilk Pancakes for Two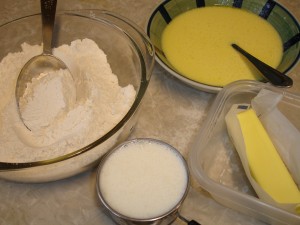 Ingredients
1 cup all-purpose unbleached flour
2 tablespoons raw sugar
1 teaspoon baking powder
1/2 teaspoon baking soda
1/8 teaspoon sea salt
1 cup non-fat buttermilk
1 teaspoon olive oil (or corn oil)
1 large egg, lightly beaten
Preparation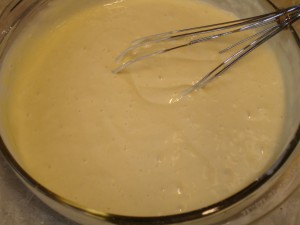 Combine all of the dry ingredients through a mesh strainer or blend together with a whisk.
Mix the eggs, buttermilk and oil together.
Add the dry ingredients to the wet and blend it with a whisk until it's smooth.  This takes about 20 strokes.


Cook these on the pan of your choice on medium heat. They take about 2-3 minutes on the first side and you'll flip them when you have some breaking bubbles on the pancakes and many that are not quite breaking. The second side frequently takes less than 2 minutes to finish. They will continue to cook just a bit once you take them off the griddle.
I serve these with a fast and easy fresh berry topping that I make from frozen local berries that I pick each season.
Notes:
The batter can be made a day in advance if you are rushed for time. These also reheat moderately well in the microwave on a setting of 50% for a minute or minute and a half. Any higher power will tend to cook them and make them more rubber like than you might like.
These are great for dinner if you want something the kids can fix and you can serve them with a bit of meat or soy substitute sausage to increase your protein. One of my favorites is the GoLean brand for a veggie/meat.
According to the original recipe, this has 3 grams protein and 2.3 grams fat (but I reduced the oil to less than a third of the original so your fat is mainly coming from the egg.  Carbohydrates are listed at 14 grams.
Notes:
8/31/12: Substituted coconut oil in the recipe for the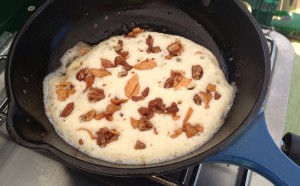 vegetable or olive oil and used coconut oil in the cast iron pan to cook the pancakes. Less burning and very light texture. Added about 1 teaspoon of rough chopped re-hydrated apples to each pancake as they were beginning to firm on the first side. To re-hydrate dried apples I use about 1/4 cup of filtered water to 1/2 cup of dried apples with 1/8-1/4 teaspoon of cinnamon & a pinch of nutmeg. Heat in a pan on low until the water is absorbed and let cool. You can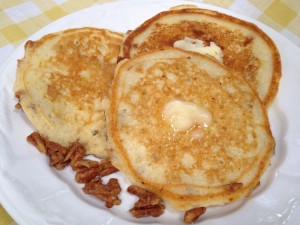 add a smidge of butter. We added candied pecans to the pancake as well. Using the same pan after you are finished hydrating the apples, add about 1 cup of chopped or broken pecans, 1 teaspoon of butter and cook for about 2 minutes, stirring constantly so they don't burn on med /low heat. Stainless pans work best for both of this process. After a couple of minutes, add about 1 tablespoon of maple syrup and stir to coat. Continue to cook for about 2-3 more minutes until the maple syrup begins to harden as you stir and basically the water evaporates completely. When the pan is almost dry of liquid syrup,  turn off the heat and lightly sprinkle just a smidge of salt on the pecans. I like Murray River Flake Salt for this recipe. Let them cool on a plate or parchment paper. After both items cool you can use them in the pancakes.