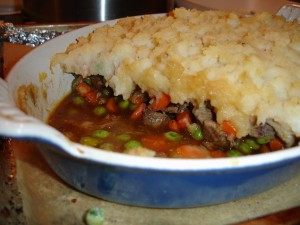 Shepherd's Pie is pretty simple to make in a single dish if you put things in the freezer in bulk. During the spring I roast heirloom carrots, celery and onions in olive oil and then freeze them in smaller portions. Freshly processed meat is almost always available at the market, so I frequently cook up some portion of what I buy (this includes sausage, hamburger and stew beef) in large amounts and then freeze it too. The broth is made up in larger batches because it takes an afternoon.
This accomplishes three things. First, I'm using the freshest ingredients and preserving their flavor and nutrients. Second and more importantly, when I'm busy, I'm prepared to make a balanced and healthy meal in a fraction of the time it would normally take.  Third,  it's an opportunity to teach the kids how to "assemble/cook" many meals without them being quickly bored.
This recipe is all about ratios. 1 1/2 cup of meat, 2 cups of broth, 3 cups of vegetables (2 cups of mixed celery, onion, carrots and 1 cup of frozen baby green peas, 4 cups of mashed potatoes (about 4 medium potatoes). With everything in the freezer, it's really a matter of pulling it all out a day ahead of time and then assembling and cooking this recipe the next day. This pie serves about 4 hungry people; more if you add some side dishes.
Shepherd's Pie
Ingredients:
1 1/2 cups of chopped lamb or beef stew meat. (1/2″ cubes or smaller)
2 cups beef broth
2 cups of mixed onion, celery and carrots chopped
1 cup frozen baby green peas, thawed
4 medium sized medium starch potato
1 clove roasted garlic, minced
1/2 cup fresh chopped flat leaf parsley
2 teaspoons cornstarch or arrowroot
salt & pepper to taste
Preparation:
Cook your meat. This will take a while if you are using stew meat because you want to have it tender. Chop it into pieces that are no more than 1″ square. Cook it slowly with a little oil to start, adding whatever herbs you prefer like thyme and rosemary along with a bit of water just to cover it. As it cooks keep adding a bit of water so that it doesn't burn but just simmers slowly. It will take about an hour to get it really fork tender. If you want to deglaze the pan at the end use a little bit of red wine but I've found it's not really necessary. If you use a shallow and wide Dutch oven casserole with a lid you can just cook the whole pie in it.
If you decide to use ground meat, please make sure to drain your meat of grease before adding it to the pie. And wipe the pan dry from the grease if you are using the same casserole dish.
Saute your vegetables in a bit of olive oil starting with the celery which will take the longest. As it begins to soften, add your chopped onion. You want both of these nearly cooked all the way through so that they are more incorporated into your broth. Add the carrots once your celery and onions are translucent and cook these just until they are beginning to soften. They will finish cooking in the pie. Add the thawed peas but don't pre-cook them. Set the entire mixture aside.
Add your cornstarch or arrowroot to the cold broth and blend well before adding this to a pan and heating. That will help eliminate lumps. I also prefer to use a gravy whisk which helps blend the sauce better. Once you have the broth mixture in the pan, bring it up to a rolling simmer/boil and keep it there a couple of minutes to activate your thickening agent. Add your roasted garlic and then reduce the heat and stir constantly until you have a medium thick broth base which should take less than 5 minutes. You don't want this as thick as gravy because it will stick to the bottom and it won't incorporate into the other ingredients as well. Turn off the heat.
To the thickened broth add the meat, vegetables and fresh parsley. Blend well. and put into the bottom of your baking casserole. Taste the base and add your salt and pepper at this point. Adding it last allows you to keep track of it if you have dietary restrictions and you can use different types of salt to alter the flavor. (Use finely ground salt, because we are basically finished "cooking" at this point). If you've been working in the dish you plan to bake in, you're all set for the next step.
Your mashed potatoes should be seasoned to your taste and not rely on the seasonings in the meat & vegetable portion of the pie.  So you can add your salt & pepper along with butter, milk and any other ingredients you like at this point. Spread your mashed potatoes over the entire top of the pie evenly.
Bake the dish at 350 for 30 min to 1 hour depending on whether your ingredients were hot or cold when you started the assembly. You will be cooking this until you see the gravy bubble up into the edges of the mashed potatoes. Let that occur for about 15 minutes. You are not trying to brown the potatoes (that requires the broiler and they get dry). You are just heating everything all the way through so your potatoes will be moist and you will still have a bit of gravy in the bottom to mix well with them.
Notes:
Ground meat works just as well as stew meat. And it can be pre-cooked as well.
Leftover meat from roasts or leg of lamb work well.
You can add 1/4 cup of low-fat ricotta cheese to your mashed potatoes.
You can change the base flavor of the meat & vegetables by adding smoked salt.