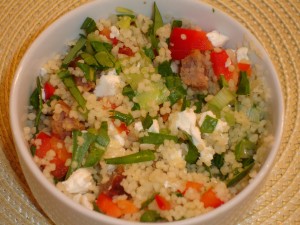 The markets are beginning to shift this weekend from winter to spring hours and the Piedmont Farm Tour on April 16 & 17th gives us all an opportunity to learn more about regional agriculture.
There was  just a bit of the Jalapeno sausage left from Coon Rock and the early spring goat cheese from Hillsborough Cheese Company left after the Western Wake Farmers' Market last week. So I made a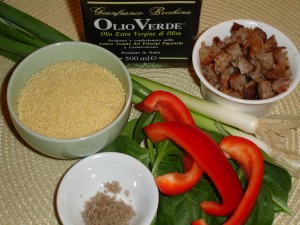 very simple salad that works well in any season with some simple ingredient changes.
In the spring & summer I enjoy the crunch of the fresh vegetables mixed with mild plain chevre and jalapeno sausage. In the winter, I prefer to use roasted peppers with marinated goat feta, more spicy sausage, sweet caramelized onions and less tangy roasted garlic. Both salads pair well with either chilled or warm soups. The recipe is for 4 servings.
Chevre Couscous Salad

Ingredients for Spring & Summer:
1 cup raw couscous
1 1/4 cups water or chicken broth
2 tablespoons olive oil
2 green onions or baby leeks
1/3 cup fresh sweet red pepper
1/2-3/4 cup Jalapeno sausage
Small handful of baby spinach
1/2 cup fresh mild goat cheese
1/4-1/2 clove fresh garlic
Himalayan or Oak Barrel Smoked Salt
Fresh chives if you have them
Ingredients for Fall & Winter:
1 cup raw couscous
1 1/4 cups vegetable or chicken broth
2 tablespoons olive oil
1/3 cup caramelized sweet onions
1/3 cup roasted sweet red pepper
1/2 cup mixed spice sausage
2 tablespoons steamed spinach
1/3 cup feta marinated in herbs
1/2-1 whole roasted garlic clove
Oak Barrel Smoked Salt
Fresh chives if you have them
Preparation:
Cook the couscous in the water / broth with 1 tablespoon oil as directed.
Chop your spinach, onions, red pepper chives and garlic.
Break up your cheese and sausage.
Mix everything up very gently with another tablespoon of olive oil so your colors and textures stay intact.
Notes:
The spring/summer salad is best served at room temperature. The fall/winter salad is good at room temperature or just a warmed a bit.
The flavors in the fall/winter salad are stronger so you will can adjust your amounts depending on how much you enjoy one flavor over another.
The Alderwood smoked salt is very subtle, but salty, so go lightly when you first start adding it.
4/30/11 – At the Western Wake Farmers' Market I made this with steamed shredded carrots and finely chopped steamed broccoli along with green onions, chives, green garlic and chevre. I eliminated the red pepper,  spinach and sausage but you could easily serve this over chopped fresh spinach and add a very light dressing.