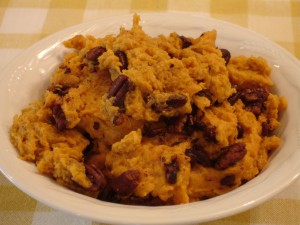 I've been developing a simple sweet potato casserole recipe that is light and fluffy minus the marshmallow and sugar. I really enjoy sweet potatoes best when they come out of the oven with a pat of butter, salt & fresh pepper. But when company is coming, this recipe is easy and flavorful and it can be put together ahead of time and baked when you need it.  Keep in mind that I bake and freeze a lot of sweet potato in the fall which makes this pretty quick to throw together in the winter and spring. I have not tried to make this with whole or low-fat milk yet.  This makes enough for 4 small side servings.
(The nuts are adapted from Sarah Foster's "Fresh Every Day" recipe)
Sweet Potato Casserole with Spicy Pecan Topping
Ingredients for Spicy Pecans:
1 tablespoon vanilla extract
1 teaspoon olive oil
1 teaspoon fresh rosemary, finely chopped
1/4 teaspoon ground cinnamon
1/8-1/4 teaspoon sea salt
1/8 teaspoon cayenne pepper
pinch fresh ground pepper
1/2 cup pecan halves
Preparation of Spicy Pecans:
Blend the extract, oil, herbs and spices in a bowl.
Add the pecans and coat.
Spread pecans on baking sheet with parchment paper & bake for 15 minutes at 350F.
Ingredients for Casserole:
2 cups baked sweet potato, mashed
1 tablespoon unsalted butter, melted
1 egg, beaten
1/2 teaspoon salt
1/4 teaspoon powdered ginger
1/4 teaspoon pumpkin pie spice
1 teaspoon maple syrup
1/3 cup half/half or whipping cream
1/2 cup Sara Foster's Spicy Pecans
Preparation of the Casserole:
Beat the all of the ingredients together except the pecans on high for about 2 minutes to add some air to the mixture.
Then you can decide to either blend the pecans into the mix before baking in a small 4″ x 8″ pan, or you can sprinkle them on top.
Cover the casserole with foil and bake for 30 minutes at 375F.
Notes: I use an infused Ginger Maple Syrup from Moosewood Hollow and I reduce the powdered ginger down to 1/4 teaspoon.