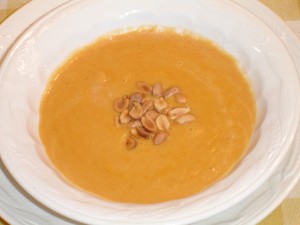 We've had some crazy temperature swings this spring and it's hard to plan meals around this sort of weather, so I rely on some standbys that you can make and freeze or make from pre-cooked, frozen items. In this case I've made a Spicy Peanut Soup from frozen ingredients but typically I make this in large batches during the fall  when the sweet potatoes come into season and freeze it in smaller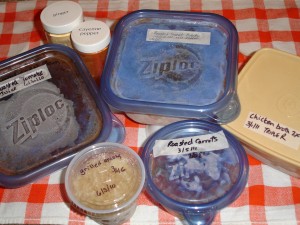 portions. There are many recipes available on the web. Most are pretty similar to the one I'll give you here. Some use less sweet potato and rely on chickpeas as a thickening agent; some serve this soup over rice. I prefer it the creamy texture on it's own without rice or chickpeas. Adjust the heat to suit your own taste. I also recommend using a non-hydrogenated, organic peanut butter because they've had fewer problems with recalls over the years.
The sweet potatoes were baked in foil and mashed (plain) before they were frozen. The onions and carrots were both chopped and roasted in olive oil. The tomato juice is the leftover from roasting tomatoes for sauce. I simply pour it off and freeze it separately. You can use vegetable or chicken stock in this soup. Both work equally well. In this case, I used chicken stock. I make stock in a pressure cooker so it doesn't take quite so long. The picture of the veggies and stock is not beautiful, but the simplicity of throwing the ingredients into a Dutch oven and cooking it for under 30 minutes make up for it. This recipe is also great frozen without the hot spices and salt which you can add later depending on who you are serving and their health needs.
Spicy Peanut Soup
Ingredients:
2 cups raw sliced sweet onions
1/2 teaspoon cayenne pepper
1-2 teaspoon grated fresh ginger root
1 cup chopped carrots
2 cups chopped sweet potato (1″ cubes)
4 cups vegetable or chicken stock
2 cups tomato juice (no-salt)
1 cup smooth peanut butter (non-hydrogenated)
1/2-1 teaspoon salt (depends on salt from other ingredients)
Preparation:
Saute the onions in olive oil until just translucent. Stir in the cayenne and ginger root. Add the carrots and saute about 5 minutes to achieve some color.
Mix in the chopped sweet potato and the stock. Bring the soup to a boil and turn down to simmer for about 15 minutes until your vegetables are all tender.
Puree the vegetables and stock along with the tomato juice.
Return to the pot and stir in your peanut butter. Blend until smooth.
Adjust your seasonings. You need a balance of sweet to hot. Depending on how long you have had your sweet potatoes you may need to add up to 2 teaspoons of sugar to bring the sweet into proportion to the spice. Sweet potatoes get sweeter as they cure so later in the season they will have developed more flavor.
Notes:
I have worked with several additional spices to this recipe over the years. In addition to the cayenne peppers, I've added aleppo peppers and mild chimayo chile powder. Both are on the low end of the heat scale but offer some fruity heat and undertones. Just start with 1/4-1/2 teaspoon of each. I have also used pickled ginger when I have run out of ginger root. It works well but doesn't have quite the fresh bite of the raw ginger root. Some recipes also call for cumin and chickpeas. I have used both but I prefer it without the chickpeas. While the chickpeas add nutritional value, they seem to distract from the sweet potato, in my opinion.