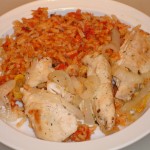 Warmer weather brings on time adjustments for everyone and sometimes it's dinner time and you haven't planned anything. Now you can pack & take a variety of meals with you!  Cook them on any grill, any time, any where!  Sounds like an ad right! Just follow a few safety guidelines when handling your raw food and you'll be serving up healthy meals in no time.  But seriously, you can actually pack up your meal so it's ready to throw on the grill at home or take it to the office, keep it chilled and cook it for a dinner at the local park.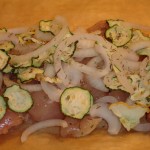 We dehydrate some of our vegetables like summer squash and onions to have all year round, but it's especially helpful when you are planning to cook out. The vegetables are light to carry and don't require a knife to cut or clean up. You can pre-cut your meat and pre-pack your seasonings. The same goes for frozen roasted garlic and peppers. Pack them with your other items!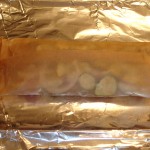 During the summer, I use fresh vegetables in this recipe like peppers, onions, summer squash, butter beans, and corn. You can use any chicken parts that you like for this. We've used this technique for all sorts of fish but I don't find it works as well for red meat. You can cut up the chicken, ostrich or fish into smaller bites and put them into the packet, as I have here to mix up the protein flavor. You could use a variety of fish to make a sort of stew with some cherry tomatoes, onions and garlic thrown into the mix.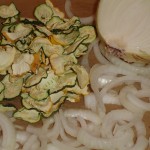 Basically you need to lightly season everything regardless of whether you cut it up or not. Put any dehydrated vegetables at the bottom of the pile with a couple of sprays of water. Put the chicken or fish on top. Any fresh vegetables should go on top to flavor the meat portion. It's possible to add any spices and herbs that you enjoy like oregano, thyme, rosemary, garlic or a splash of lemon.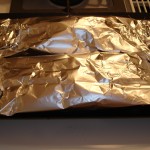 Cook this on your grill for about 10-13 minutes around 350F. I try to use indirect heat or set it on a grill tray to avoid burning. You can leave the tray in the grill if you like so it heats up before you put the cold chicken packets on it. Once you take the chicken off of the grill.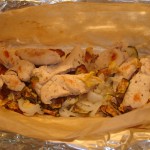 Let it remain covered, resting for about 3 minutes depending on your protein. Your protein should have some browning but still remain moist and tender using the method. Serve with rice or noodles if you like.