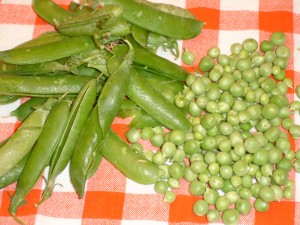 The color of this spread just screams SPRING! This was the first week of fresh pea pods at my local market. Generally they are hard to find because farmers don't grow them much anymore. They're not difficult, but consumers don't enjoy shelling the pods and generally aren't willing to pay farmers enough money to do it either. They take up a lot of shelf space in the produce section of a grocery store so they aren't much liked by those folks either.  A conundrum for something so simple, delicious and healthy.
Peas are delightfully sweet when you first shell them and quite a few get eaten before they make it to the cooking stage. Their delicate color and flavor are a perfect match to some incredibly light ricotta that Hillsborough Cheese sent home with me last Saturday from Raleigh's Midtown Market. It was available at the market loaded with garlic and chives and quite lovely on its own.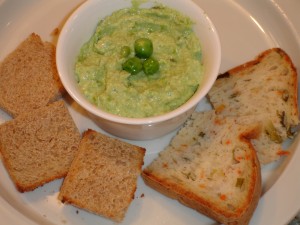 Get your spoons ready, because you might not be able to wait for any crackers or fancy bread slices. Let me forewarn you, the complex flavors you are going to taste in the local fresh ingredients are going to be so superior to anything you buy at the "grocery" store that it will make the trip to the market worth your time and effort.
Shown above is the Goat's Whey Bread from Prodigal Farm in Rougemont & Ablicious Bakery Gluten & Dairy Free Garden Loaf in Pittsboro. The peas came from New Grass Garden / NoFo Market in Raleigh, the ricotta was from Hillsborough Cheese Company.
Spring Pea & Fresh Ricotta Cheese Puree
Ingredients:
4 oz farm fresh ricotta cheese (garlic & chives added if possible)
1 cup shelled green peas
Murray River Flake Salt & Mixed Blend of Peppers
Preparation:
Cook the peas on medium heat with a lid in a non-stick pan for about 3 minutes with about 2 tablespoons of water and 1/2 teaspoon unsalted butter.
Put them in a small food processor along with the ricotta cheese and pulse this until it's fairly smooth. Add in some fresh ground pepper and salt to your taste. I prefer the Murray River Flake salt in this case because it has a bright tone that I think enhances the sweetness of the peas and the freshness of the ricotta.
Notes:
Some recipes may call for you to use olive oil to thin the mixture. This will not be necessary if you are using local fresh ingredients. They are light enough without oil.
If you need to add garlic and chives to plain ricotta, be sparing with the garlic because it increases potency over time. Start out with 1/8 teaspoon. You can use roasted garlic which tends to be sweeter if you prefer. The chives need to be cut very small and it should only take about 1/4 teaspoon of fresh chives for a 4 oz container of ricotta.