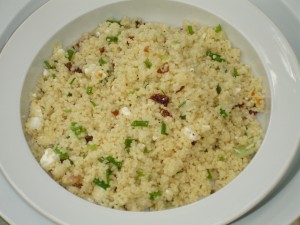 This is probably one of my favorite types of sides to take on a picnic. It starts out cold and ends up at room temperature where the flavors stand out best. And, it's so simple you can make it  in 15 minutes.
Want to know more about sunchokes? Here's a quick summary of their nutritional value and storage. Sunchokes. I simply scrub mine and roast them in the spring and fall when they are in season and then freeze them in small quantities to use later. The sungold tomatoes are so plentiful near the end of the summer each year that you can buy them in bulk from farmers and dry them at home.  The sungolds dry sweeter than the store-bought brands. Store them in airtight containers all winter.
Feta Couscous Salad
Ingredients:
1 1/4 cup water or chicken broth
1 cup couscous
1/8 teaspoon pepper
1 tablespoon roasted sunchokes chopped
1 tablespoon sun-dried Sungold tomatoes chopped finely
1 teaspoon dried shallots (or half of a fresh one)
2 tablespoon olive oil
1 tablespoon finely chopped green onion
1 teaspoon finely chopped fresh chives
Preparation:
Add the sun-dried tomatoes and dehydrated shallots to the olive oil and let sit for 15 minutes or up to a day.
Bring water / chicken broth to a boil.
Add couscous.
Place lid on the pot.
Turn off the heat.
Let sit for 5 minutes.
Fluff with a fork.
Add sunchokes, sun-dried tomatoes and shallots with the olive oil, green onion, chives, feta and pepper.
Mix well and serve or refrigerate.
Notes:
The feta tends to be very salty, so I adjust the salt after I have added all of the ingredients.
You can add substitute 1/2 teaspoon roasted garlic for the green garlic.
You can substitute small pieces of lightly roasted thin asparagus for the sunchokes.
You can serve this on a bed of shredded fresh chard or spinach.