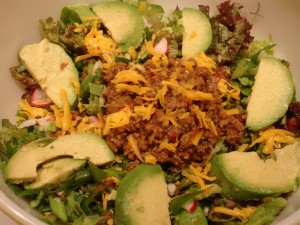 I know I promised to get the recipes up from this past weekend, and I will, but not today. Late Tuesday I drove across town to check out the new Western Wake Farmers' Market and found a whole host of greens, some organic tomatoes and lovely long white mild radishes. At home, I already had an avocado, green onions, Ashe County Sharp Cheddar Cheese from my CSA this past week and some local salsa that I needed to finish up. And, I had taco beef already cooked up in the freezer. Just like the stew beef, I cook up about 5 pounds of hamburger at a time and repackage it for the freezer in 1 pound increments so it's ready for anything. Some of it I make into taco-meat with the "Simply Organic" line of mix and freeze in small quantities. This is one of the few times I really cheat and don't make up my own spice mix. This works with meat substitute too! I've tried it with the Gimme Lean brand of sausage.  It's also beautiful as a vegetarian salad.
The taco meat took less than 2 hours to thaw and I warmed it up in about 5 minutes with a little additional water. I chopped the lettuce, sliced all the other ingredients and the cheese was already shredded from my market demo on Saturday.  I used the leftover salsa as the "dressing" for the salad (very healthy and virtually no calories or fat) so the lettuce was wet enough to attract some salt & fresh ground pepper. It took less than 15 minutes from start to finish to put this lovely salad on the table and about the same amount of time to eat it all up!
Now there's plenty of time left to deal with the plants I purchased at the market….