About a year ago I had a lovely chilled fennel bulb salad at one of my favorite restaurants and a separate fresh pea shoot salad at the same dinner. Normally I would ask the chef a little about the recipe, but I  totally forgot about it until I noticed fennel and pea shoots for sale this past week.
So, I went in search of a recipe that I could make  for a farmers' market demonstration. It needed to be kid-friendly. Most of the recipes I found appeared to have adult-oriented flavors.
Using a design process called "editing", I started eliminating ingredients and adding them back in as I tasted the salad. This recipe is more about ratios than exact measurements because the size of the individual ingredients is going to vary from location to location and season to season. I find that our local organic farmers pull the vegetables when they are younger, sweeter and more tender than what you typically find at the grocery store.  Adjust as you go.
Several young kids and teenagers tried the salad at the Five Points Farmers Market this past Saturday and enjoyed it as much as the adults, so I think this is a pretty safe "family" recipe. Sorry the pictures are "sans" the pea shoots. I didn't take my camera to the market. If you can find pea shoots, add bite-size pieces to your salad about an hour before you serve it so they don't sit in the dressing and wilt. They are tender and delicate.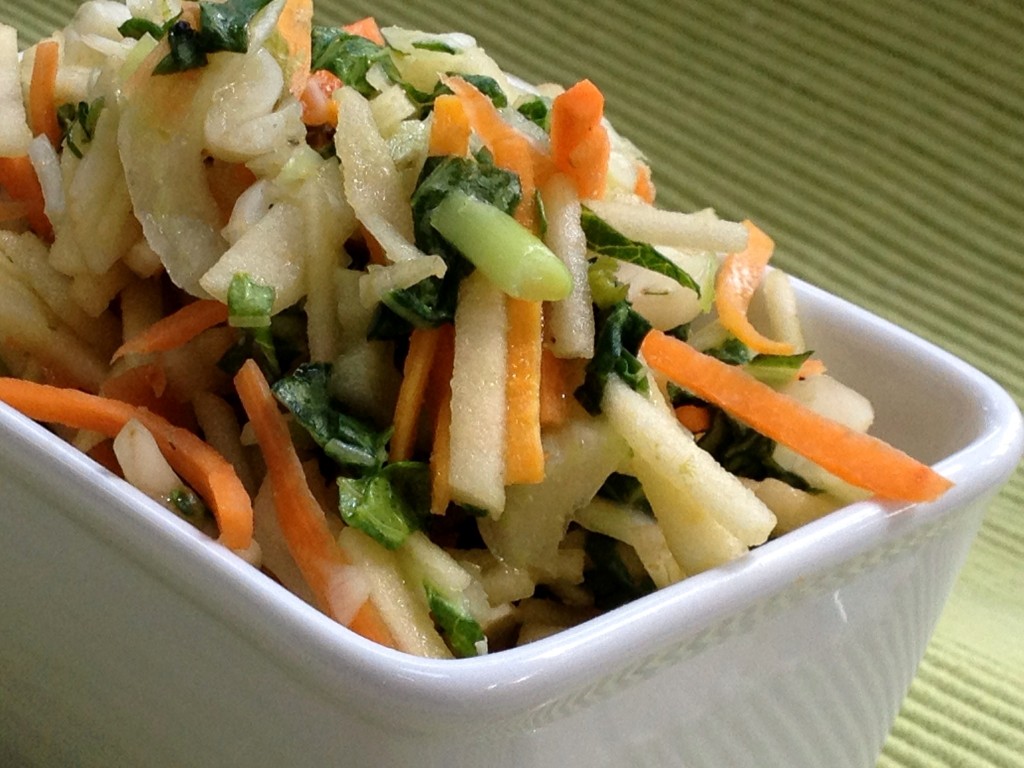 Fennel, Apple, Carrot & Walnut Salad with Fresh Pea Shoots
Ingredients
1 fennel bulb, (about 1 & 1/2  cups, use part of the stalks for texture)
1 tart, crisp apple, skin removed (about 3/4 cup)
1/2-3/4 cup shredded carrot
1 tablespoon fresh lemon juice (helps keep apple from turning)
1 tablespoon honey
1 tablespoon apple cider vinegar (white balsamic or rice vinegar)
1/4 cup chopped toasted walnuts (or toasted pecans)
salt ( Murray River Flake Salt)
fresh ground pepper to taste
1 tablespoon virgin olive oil (optional)
1 cup bite-size pea shoots
1/2 cup finely sliced bok choi  and/or young green cabbage
Preparation
Clean the fennel bulb and pull off the outer pieces if they seem too dirty or discolored. Thinly slice the bulb and cut the pieces to bite-size.
Remove the skin from your apple. Julienne the apple and use about 3/4 cup of the apple. You can use less if you enjoy more licorice flavor from the fennel. Add to the fennel.
Add the shredded carrot to the fennel and apple.
Mix the lemon juice, honey, apple cider vinegar, salt & pepper. Adjust the flavor to suit your taste and add to the salad. You may add the olive oil but I didn't find it was necessary to use it at all and preferred the dressing without it.
Let the salad sit for a couple of hours. Right before serving add in the walnuts and pea shoots for color, texture and flavor.
Sunflower seeds might be an interesting addition to the salad at the end as well.
 Notes
6/17/12 – Since last year, I've had a chance to make this a few more times and it's also great with small pieces of both the stem and leaf of bok choi added in if you make it during the very early part of the fennel season when bok choi is still being harvested small. If you miss that, the early small cabbage or savoy cabbage is lovely in it.  Pecans add a hint of sweetness once toasted if you're not a fan of walnuts but it's equally nice without the nuts. I also found the mustard dressing with white balsamic vinegar works well with the flavors and I expect that rice vinegar would too.
You can also use  a shredding attachment to you food processor and create more slaw texture that pairs really well with chicken sausage without much more than a little vinegar and honey or maple syrup. Leave out the olive oil.