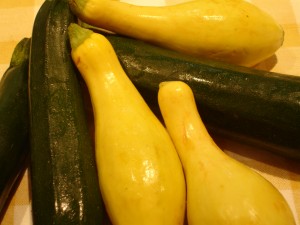 This past week the lovely little green zucchini showed up at the market. Now I love these guys sliced in ribbons, lightly grilled and then served with pine nuts and fresh cheese, but we'll talk about that later this week… In the meantime, I am trying desperately to clean out the freezer from the fall and incorporate fresh items to demonstrate the versatility of these vegetables.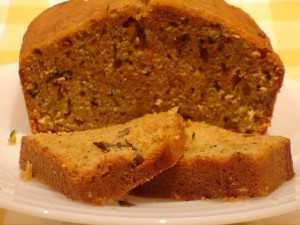 The carrots I used in this cake were grated and lightly steamed before I put them in a small container and froze them. It's a great way to keep their beautiful color and texture and you can add them into raw salads or into baked goods quite easily. It can also save you some money, buying up extra carrots from your local vendor in the fall when the farmers' markets are getting ready to close and the carrots are ready for harvesting.
I've had some great success with zucchini olive oil cakes and I thought that the carrots would be a compliment to them so I went hunting on the web and apparently, it's not a new idea. I found several recipes, mostly laden with butter or olive oil and various spices that I wasn't sure I would like and didn't have time to test so I just "edited" and combined a few that were similar.
This came together with minimal effort and it's something I'll make again. There's enough for 2 large loaves or 2 cakes – or one of each. I used a (8.5″ x 6.5″) cake pan that fits into my toaster oven and a regular bread pan (9″ x 5″). Both did equally well. Pull the cake pan at least 10 minutes earlier than the bread pan.
Zucchini & Carrot Cake / Bread
Ingredients
3 large eggs at room temperature
2 cups organic cane sugar
1 cup (liquid) coconut oil
2 cups grated raw green zucchini (large grate)
1 cup grated carrot (large grate)
1 tablespoon real vanilla extract
2 cups all-purpose flour
1 cup white/wheat flour
1 teaspoon fine Himalayan salt
3/4 teaspoon baking soda
1 teaspoon baking powder
1/2 teaspoon ground cloves
1/2 teaspoon ground nutmeg
1 1/2 teaspoons ground cinnamon
2 cups coarsely chopped toasted pecans or walnuts
Preparation
Preheat the to 350F.
Butter (unsalted or salted for this one)  and flour your pans.
In a large bowl sift together both flours, salt, baking powder, baking soda, cloves, nutmeg and cinnamon. Set aside
In a mixer, beat your eggs until they are light and fluffy.
Add the sugar to the eggs and beat again until fluffy.
Continue beating on low speed and add the coconut oil and vanilla extract to the eggs and sugar.  Incorporate well.
On low speed, add the grated zucchini and carrot.
Beating at a low speed, quickly add in the dry ingredients and stop beating when they are just incorporated.
Hand blend the nuts of your choice to the batter. You can separate the batter and add different nuts.
Bake the cake for about 40-50 minutes. It will rise quickly and brown lightly.
Bake the loaf pan for 50-60 minutes. It rises more slowly in the middle but bakes all the way through by the end.