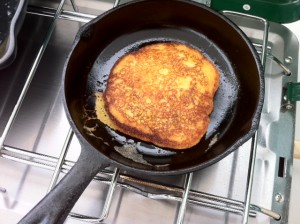 Corn cakes, hoe cakes, lace bread, flat bread. The names are just about endless.  But the beauty of this little corn cake is it's versatility. Serve it with eggs and honey in the morning, a heaping spoonful of  jalapeno goat cheese and a salad at lunch, or as a side to a vegetable plate at dinner. It's incredibly easy to make and you can add in herbs, green onions, hot peppers, chile powders, or cheese and create an entirely different flavor for your meal each time you cook. The possibilities seem endless. I served these at Western Wake Farmers Market with Strawberry Balsamic Jam.
5/30/11 – Today I played around with these cakes a bit more to get ready for a different farmers' market this weekend. I added some local green onion and some freeze dried corn. I had dehydrated corn last fall, but that was used up months ago so I picked up some freeze dried just to try at Savory Spice about a week ago. It's like a sweet snack when it's freeze-dried. My dehydrated is great in soups and stews, but this is wonderful by the handful. It's not organic, GMO-free or local, unfortunately. I'll try some local organic roasted corn in this recipe when I can get it in a few weeks and update this post with the results.
2/11/2012 – We had a few questions about converting these to a gluten free recipe yesterday at the Carrboro Farmers' Market. Our Nutrition intern suggested brown rice flour to replace the wheat flour and I tested that today. She has a wonderful site for gluten-free baking:  Cakes 'N' Bakes.
The texture holds up well even without the use of any sort of gum. I did add 1 teaspoon of an organic, GMO free, gluten-free corn starch. I believe there is enough change in the base flavor that you will need to increase the salt to at least 3/4 – 1 teaspoon. And I found the roasted corn that I used also needed to be bumped up to 2/3 cup to maintain the flavor profile. We also want to test potato flour next week so we can make additional recommendations.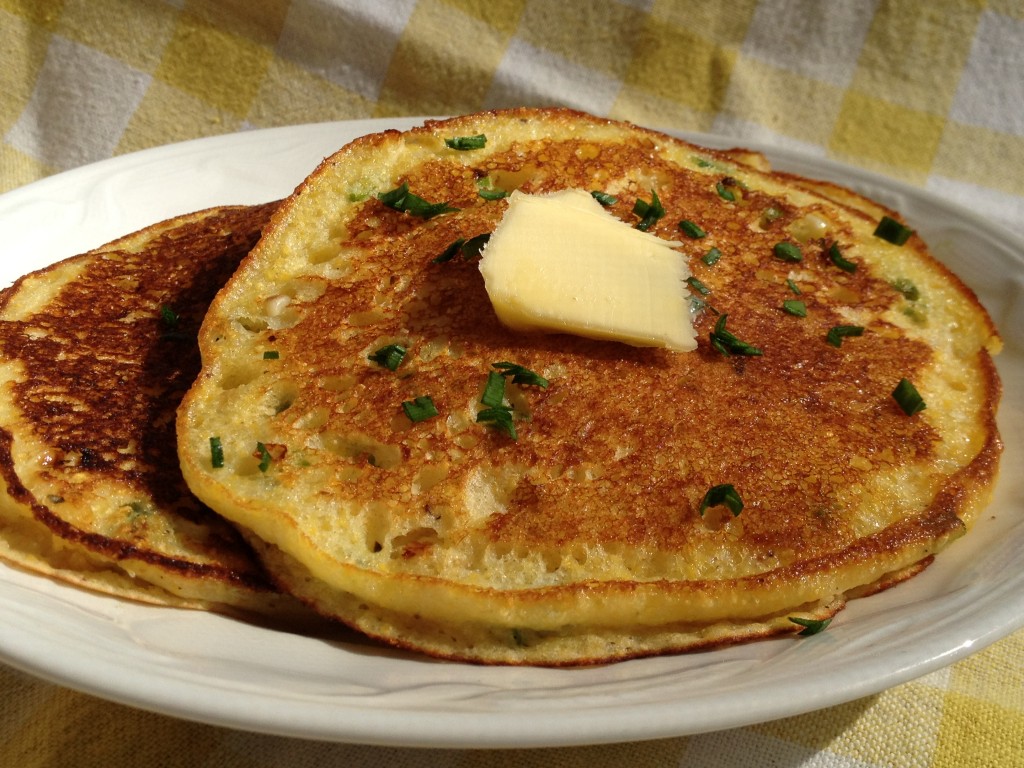 Buttermilk Corn Cakes
Ingredients
1 cup corn meal
1 tablespoon baking powder
1/4 cup flour
1/2 teaspoon salt
1 1/4 cups buttermilk
1 egg
1 tablespoon olive oil
1/3 cup finely chopped green onion (optional)
1/3 cup freeze dried corn (optional)
Preparation
Mix the corn meal, flour, baking powder, and salt in a bowl.
Mix the egg, buttermilk, and olive oil in another bowl.
Add the dry ingredients to the wet and blend until just mixed.
Cook in cast iron skillet with a minimum of olive oil on medium heat.
Lightly brown both sides.
Serve hot with any number of toppings.
Notes
This recipe will work fine if you eliminate the egg, OR if you use regular milk instead of  buttermilk (or make your own by adding vinegar to milk) OR by eliminating the flour or changing it to rice flour.
You can substitute another milk but you may need to reduce the amount of your substitute if it is thinner in texture. The buttermilk has a chemical reaction with the baking powder so your may not be quite as fluffy.
If you remove the flour, then you might need to reduce the amount of the buttermilk. It depends on how think you like your cakes. You can replace the flour with rice flour, but increase the buttermilk to 1 1/2 cups, add 1/4 – 1/2 teaspoon of additional salt, and double the roasted or blanched corn in the recipe because the rice flour changes the flavor and competes a little with the corn. After we test potato flour & potato starch we will leave additional notes.
If you remove the egg, the batter will have a little less flavor but the rest of the measurements should remain the same.