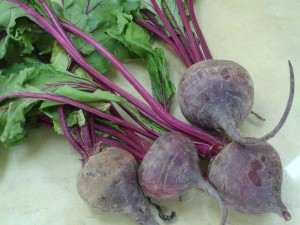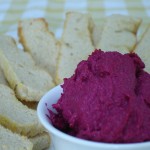 This is a hummus that Barney would love! Yes, it's purple. It's also fun and tasty and goes well with toasted naan. Using  ingredients from your freezer or just some leftover roasted beets from a meal, you can make this in your food processor in minutes. Make it more or less sweet by changing the amount of tahini, garlic, chickpeas and cumin, just check the notes at the end of the recipe. If you make too much, throw the extra in the freezer and enjoy it some other time!
Roasted Beet Hummus
Ingredients
8 oz roasted beets, mashed
1/4-1/3 cup tahini
3 tablespoon virgin olive oil
2 tablespoon fresh lemon juice
1 1/2 teaspoons roasted garlic
1/2 cup cooked chickpeas
1/2 teaspoon cumin
1/4-1/2 teaspoon salt (optional/ Murray River Flake Salt)
Preparation
In a food processor (small size), blend all of the ingredients until smooth. It takes a couple of minutes and I found doing it in two batches resulted in a smoother consistency.
Notes
Using less tahini will result in more beet flavor coming through and less creamy texture.
Eliminating chickpeas will result in sweeter hummus with more beet flavor and less creamy texture.
Adding more chickpeas will result in more mild flavor overall.
If you are using raw garlic instead of roasted, start with half of the amount.
Use more cumin if you like the flavor of it. Kids usually don't like it loaded up with cumin.
The olive oil helps you process the foods more smoothly so you can add or subtract as you go along.
Salt and pepper if you like, but I didn't find it necessary.