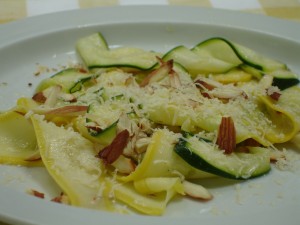 The original recipe for this comes from the Eating Local cookbook by Janet Fletcher. I have enjoyed using this book quite a bit this season for farmers' market samples because the book tends to stay true to season with the ingredients in each individual recipe. It's a great book if you like raw food without the stigma that many raw cookbooks seem to impart.
When I first tested this recipe at home, I was able to eat it right away before the squash had a chance to release any water. When I made the sample batch for the Raleigh Midtown Farmers' Market at North Hills, I had to slice and dice the squash into smaller pieces to fit into the sample cups and I had to dress the salad about two hours before I served it. I think the flavor of the original dressing was fairly watered down as the sat in the cooler. I also used pine nuts in the sample at North Hills, but my preference is for the sliced almonds which I think work better with the flavors and textures of the ribbon squash.  Originally the test batches included Chapel Hill Creamery's Asiago cheese, finely grated. I did not include this in the market sample because normally, there's a good number of dairy-free folks that stop by to sample the salads; but my preference in this recipe is to add the cheese because it works well with the Dijon mustard and both types of nuts.
So even if this wasn't your favorite sample at the market, give it a try in a small batch. I think it tastes significantly better when you first make it and don't allow it to sit around as I did at the market. You can create the ribbons using a wide vegetable peeler like the OXO or a traditional mandoline.  Make sure that you pick up the same volume of baby zucchini to squash so the salad has both colors evenly distributed and the smaller squash have fewer seeds and a firmer texture. This is a dish that could change dramatically with some infused olive oil or infused white balsamic vinegar to replace some of the lemon juice. You could change the roasted garlic to a small amount of shallot or green garlic as they come into season. I did try the salad with some fresh thinly sliced fresh sweet onions, but I thought they overpowered the squash in this recipe. Keep your flavor choices and amounts light. This is a great summer side that is worthy of our 90+ degree humid Southern summers when we try not to turn on the oven.
Summer Squash Carpaccio for Two
Ingredients for Salad

4 oz Baby Green Zucchini
4 oz Yellow Crookneck Squash
1/4 cup Slivered Almonds, lightly toasted
1/4 cup fresh Flat Leaf Parsley, roughly chopped
1 teaspoon fresh Chives, finely chopped
1/4 cup Asiago Cheese, finely grated (sub Parmesan)
Salt & Pepper to taste
Ingredients for Dressing
1/8-1/4 teaspoon Roasted Garlic
1/8-1/4 teaspoon Dijon Mustard
1 Tablespoon Extra Virgin Olive Oil
2 teaspoons fresh Lemon Juice
1/4 teaspoon Honey
Preparation
Mix your dressing with a small whisk. Set aside.
Toast your almonds lightly in a toaster oven or a saute pan. You can use a bit of butter if you want, but it's not necessary. Go for a golden color, not really browned. Set aside.
Using a vegetable peeler or mandoline, finely slice the zucchini and squash lengthwise, throwing away the first and last slices away because they are mostly skin. The baby zucchini and squash work well for this application because they create a good size of ribbon that holds together in the salad without many seeds.
Mix in your parsley and nuts.
Dress the salad and top with the cheese; serve.