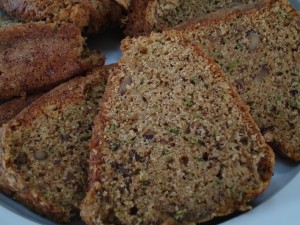 This cake is really light and I think you could actually use the batter for muffins and add a Lemon Cream Cheese Frosting. Or if you are adventurous, a Lemon Chevre Icing! The original recipe came from Gina DePalma's "Dolce Italiano: Desserts from the Babbo Kitchen". It's not on my book shelf, so I probably borrowed it from the library. I've had this one a while and made a few changes over the years. Most recently I decreased the amount of olive oil. It's great with more and it stays moist for a couple of extra days, but I felt like it was "heavy" in the summer and the volume of water in the zucchini more than makes up for the 1/4 cup of reduction in olive oil. I don't think you can take it down any further without sacrificing texture.  You can change the nuts in this from walnut to almond or pecan. I've used all three and had excellent results. So pick your favorite and go with it! And try the cake before you add the Lemon Glaze. It's not terribly sweet, but it does have enough sugar to stand on it's own.  I reduced the glaze as well. The original made a ton and I felt like it overpowered the delicate flavors and texture of the cake once the recipe was lightened up.
Zucchini Olive Oil Cake with Lemon Glaze
Ingredients for Cake
1 cup toasted Almonds, Pecans or Walnuts
1 cup White/Wheat Unbleached Flour
1 cup White Unbleached Flour
1 teaspoon Aluminum Free Baking Powder
1/2 teaspoon Baking Soda
1 teaspoon Pink Himalayan Fine Salt
2 teaspoons Ceylon Cinnamon
1 teaspoon Ground Ginger Powder
1/2 teaspoon Ground Nutmeg
3 large Eggs, room temperature
1 3/4 cup Cane Sugar
3/4 cup Extra Virgin Olive Oil
2 teaspoons Pure Vanilla Extract
2 1/2 cups Zucchini, grated (large)
Preparation of Cake
Preheat oven to 350F and grease a 10-cup bundt or tube cake pan with butter and then flour it. Tap out the excess. If you don't have a bundt or tube pan, you can use regular cake pans, but decrease your bake time.
Pulse the nuts in a food processor until they are finely chopped but NOT ground to a "flour".
In a bowl, sift together the flour, baking powder, baking soda, salt, cinnamon, ginger and nutmeg. Set aside.
In a stand mixer with the paddle attachment, beat the eggs and then add the sugar and olive oil. Beat 3 minutes on medium speed until the mixture seems light and well incorporated.
Scrape down the sides of the bowl with the eggs and add the vanilla extract. Beat just a minute to incorporate it.
With the mixer on low/medium, add the flour mix slowly until it's incorporated. Stop and scrape down the sides.
Beat on medium/high for 30 seconds.
Stir in the nuts and zucchini by hand.
Pour the batter into your pan and bake for about 45 minutes until a toothpick (I use a 4″ wood skewer ) comes out clean.
Cool for 10-15 minutes before removing from the pan.
You can freeze the cake before you add the glaze but you will need to warm the cake or the icing to glaze later.
Make the lemon glaze right after you pull the cake out to cool.
Ingredients for Lemon Glaze
1/8 cup freshly squeezed Lemon Juice & the Zest of one lemon
1/6 cup Cane Sugar
1/2 cup Confectioner's Sugar (10X sugar)
Preparation of Glaze
In a small bowl, whisk together the lemon juice, zest, and both sugars until it's smooth.
Cool the cake for 10 minutes. Carefully remove it from the pan.
Brush the glaze over the cake while it's warm with a pastry brush.
Let the cake and glaze cool completely before serving so the Lemon Glaze sets up as a crunchy topping.