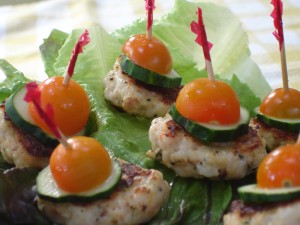 Summer is clearly here with the consistent 90+ temps and that means some excellent fish from the coast! Locals Seafood had some great choices for the folks that stopped by the NOFO's Saturday Fair.  They left a few things for shoppers to pick up inside the frozen section of the market in the store.  Yesterday I used their white shrimp along with a few other items from the market.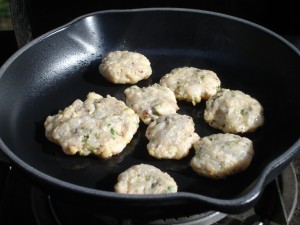 The recipe originates from Gena Knox's "Southern My Way", which you can pick up in the store too.  This is very similar to the recipe I've used for years for crabcakes.  One thing to note is that you will need to adjust the amount of celery in this recipe depending on the type you use. I typically use an heirloom, locally grown celery. Not many farmers grow it but it is most similar to celery found in Asian markets. Wild Onion Farms grows this in Johnston County and sells it at a couple of the Raleigh markets for just a couple of weeks.  The stalks are thin and shorter than those found in traditional grocery stores throughout the US.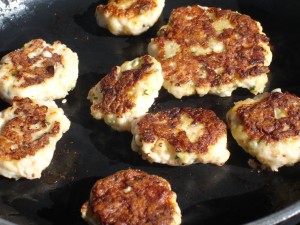 It tends to have a beautiful head of green leaves that are quite flavorful and excellent in soups or salads. The stalks also tend to be less tender and more pungent in flavor, so in this recipe I sautéed them along with some sweet onion. Most of the farmers have finished pulling the smaller green onions so I used what was coming into the markets now. I didn't want either of these flavors to overpower the shrimp and just a couple of minutes in the pan with some olive oil softens them up and tempers the flavor. But if you are shopping at your local store and plan to use the more mild celery and green onions, you can certainly skip the saute step.
As many of my readers know, I freeze many things, bread being one of them. Rarely am I able to finish a loaf before I know it will be stale so I normally cut a loaf in half and put one half in the freezer. In this case I had a couple of choices for the recipe and decided to try a Yeasted Corn Bread from Chicken Bridge Bakery in Pittsboro. After all, hushpuppies and shrimp are a true Southern favorite so I figured it would be fun to try it out in this recipe. Everyone liked it, so if you are in the area, try to pick some up. It also makes some excellent croutons for a tomato salad or an excellent tomato and cheese grilled sandwich because it's not overly "corny" in flavor.
The other thing I did yesterday was just saute little bits of the mix in a cast iron pan with a little butter. When I ran the test batch on Friday night, I noticed that it took a while to cook the mix as a burger and when I cut up the burger for samples, it got messy and didn't present well. So I decided to cook up little tiny shrimp bites instead and they were wonderful and brown all over. Most importantly, they held together very well as a sample.  I served these with the same little Dijon Aioli that I use for the crabcakes but they would be great with the homemade tartar sauce that Gena has in her cookbook. You can really make these any size and change the topping;  I love that about the recipe!
The original recipe is published on Gena's own website as well as in her book: http://bit.ly/jpQBPe
Here is the adapted recipe as I made it at NOFO's Saturday Fair in Five Points with Frozen White Shrimp (26-31 count) from Locals Seafood.
Shrimp Bites
Ingredients
1 cup fresh bread crumbs, finely chopped
1 lb shrimp, cleaned (26-31 count)
1/6-1/4 cup heirloom celery stalks, finely chopped
2 tablespoons sweet white onion or green onion, finely chopped
1 teaspoons olive oil
1 tablespoon fresh flat leaf parsley, finely chopped
1 teaspoon Dijon country-style mustard
1 teaspoon fresh lemon juice
3/4 – 1 teaspoon Old Bay seasoning
Preparation
In a food processor or by hand, finely chop the bread into a crumb mix.
In a food processor or by hand, finely chop the shrimp after you have cleaned the veins out.
In a small non-stick pan, saute the celery and sweet onion in the olive oil until it's barely cooked. A little crunch is still fine for this recipe.
Mix the celery, onion, mayonnaise, parsley, mustard, lemon juice and Old Bay (and cayenne) together in a large bowl by hand.
Add the shrimp to this mix and blend well by hand.
Add the bread crumbs to the mix and blend well by hand. The mix will be sticky and easy to mold at this point.
You can refrigerate or cook these immediately or save them for the next day.
Saute these in an equal mix of butter and olive oil on medium heat in a cast iron pan to get a nice brown crust on them.
Optional
Add in 1/4 teaspoon cayenne as the original recipe is written for some heat
Add in a little sweet red bell pepper as the summer ripens them
Add in some jalapeno pepper for some heat and color as they come into season