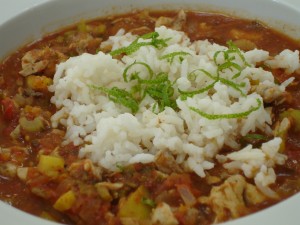 One of my favorite healthy meals is fish stew made with lots of different sorts of seafood. This is a fast recipe for you to try that will accommodate one variety or several types of fish in it at once. It's pretty quick to throw together and I like it served over some steamed rice.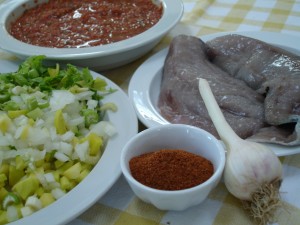 This weekend Locals Seafood had a bit of extra Bluefish after the NOFO market. Bluefish holds up really well when cooked in a soup and it's also a good choice for tacos because the flavor and texture will stand up well against spices and quick hot cooking. It's also  inexpensive compared to other seafood and easy to find all summer long.  Smaller fillets are very tender and make this a fast meal when they are cut up into the one-inch pieces and a great filler fish for a recipe like fish stew.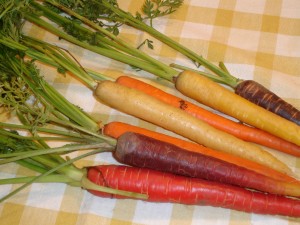 For this recipe, I used local heirloom carrots from Ben's Produce, celery from Wild Onion Farms and sweet onions from Roberson's Rocky River Farm. There are just a couple of weeks when you can all of these ingredients together at the market! Later in the season, it's  just as easy to use pre-roasted or steamed vegetables from your freezer.  The heirloom carrots come in delightful colors of yellow, white and a light green, red, orange, and sometimes purple. The lighter colored ones stand out better against the deep red of the roasted tomatoes in this recipe,  so I picked out some of those for the stew.
The tomatoes are a blend of heirlooms roasted with fresh herbs, garlic and onions last summer, the tomato juice is what I pull off of the tomatoes after I roast them. I'm able to use the juice in all sorts of recipes throughout the year. I have made this recipe using Old Bay because it's what I grew up eating and I like it a lot. However, Old Bay is heavy on the celery and salt so you may want to adjust the amounts or select a brand of seafood seasoning that you normally use if you don't like Old Bay. I've also tested the Savory Spice Coastal Bay Seasoning mix which has a stronger base of black pepper so it's a bit hotter than the Old Bay.  The recipe is versatile enough to use with different levels of heat, salt, paprika, celery, garlic and bay leaf. Just follow the techniques and you'll be fine making this quickly for dinner. You can always add some additional spices to suit your own taste.
This recipe will easily serve 4 people without any sides, 6 if you have some side dishes.  I like to serve this stew with roasted corn on the cob or corn bread.
Fish Stew
Ingredients
1 tablespoon olive oil
1 cup finely chopped heirloom celery
1 cup finely chopped sweet onion
1 cup chopped light-colored heirloom carrots
1 clove garlic, minced
2 cups roasted tomatoes with herbs
1 1/2 cups tomato juice (or vegetable juice)
1/4 cup rough chopped fresh flat leaf parsley
2-3 teaspoons Old Bay or other seafood seasoning blend
Zest of one lime
squeeze of fresh lime juice (optional)
Preparation
Remove the skin from the bluefish fillets and cut the fish into 1″ pieces.
Saute the garlic onion, celery and carrot in the olive oil on medium heat. Do not brown, just cook them until the onions and celery have just started to soften.
Using a large pot, combine the roasted tomatoes, tomato juice, vegetables, parsley and spices. Cover and simmer on medium heat for 5-10 minutes without boiling. The fish will cook very quickly.
Leave the cover on for another 5 minutes just to let the spices mix into the vegetables and serve in a bowl with a squeeze of lime juice and some lime zest or over some steamed rice
Variations
add 1/4 cup of cooked yellow split peas for more savory and filling texture
add 1/4 cup of freeze-dried yellow corn (Savory Spice) for some sweetness
add in different types of fish like shrimp, mussels and squid