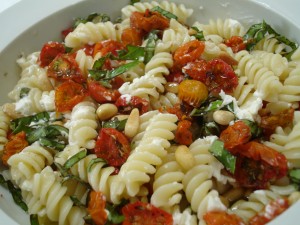 The salad I'm taking to the North Hills Midtown Farmers' Market this Saturday is simple, light and interchangeable to suit what's available each week at the market. I've created it for the "Farm it Forward" families that are going to get sungold dehydrated tomatoes this season along with some recipes for storing food from their CSA boxes.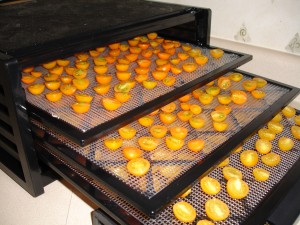 Today I used spiral noodles because they hold the soft goat cheese and chopped basil well. Both the dehydrated tomatoes and goat cheese  would be delicious with a whole grain pasta if you have that on hand. If you want something even lighter, go with an orzo pasta and you can add some protein by adding some chopped local bacon. Today I used partially dehydrated sungold tomatoes that had Italian herbs, salt & pepper sprinkled on them before they hit the dehydrator. They were sweet, soft and yummy because they were only in the unit for about 12 hours.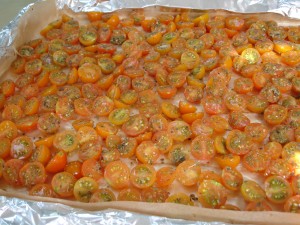 If you take them out at this step, you need to refrigerate them and use them in the next few days or freeze them. Otherwise, continue to dry them completely and you can store them in your pantry to eat all winter, if they last that long.
The other suggestion for this salad is to use either hot or chilled cheese ravioli and shredded baby spinach or arugula. You could make an entire meal out of this salad with the addition of some local small ravioli and greens. If you aren't fond of basil, swap out some fresh flat leaf parsley. If you don't like pine nuts, eliminate them. 
If you prefer feta or something like Asiago, use that instead of the goat cheese. All of these changes will still highlight the star of the show, the dehydrated sungold tomatoes with herbs.
If you don't feel like drying the tomatoes, lightly cook them in a non-stick pan for a couple of minutes and add them just warmed up. You can add fresh thyme, rosemary, roasted or raw minced garlic. Whatever you have on hand.
To partially dry the sungold cherry tomatoes, you can use a dehydrator set at 125F or you can set you oven at 150F and place them cut side up on parchment paper for about 12 hours. To fully dry them in the summer it can take as long as 24 hours. You will need to continue to check their progress and rotate the trays so they dry evenly.
Summer Pasta Salad
Ingredients for 2 servings
2 cups dry spiral pasta
2 tablespoon toasted pine nuts
2/3 cup of partially dried sungold tomatoes with Italian herb mix
or 1 cup of sungold tomatoes halved and lightly cooked in EVOO
2 tablespoon plain chevre (feta or asiago)
4 basil leaves, chopped
1 teaspoon olive oil
Sea Salt & Pepper to taste
1/4 teaspoon minced roasted or raw garlic (optional)
2 teaspoons chopped olives (optional)
2 tablespoons chopped crispy bacon (optional)
Substitute fresh flat leaf parsley for basil (about 2 teaspoons rough chop)
Preparation
Cook the pasta according to the directions. Drain it and leave it to cool in a bowl while you assemble the rest of the ingredients.
Mix the tomatoes, basil (parsley), cheese, olive oil together, garlic, olives, and bacon together with the pasta.
Add salt & pepper to taste.
Serve at room temperature or chilled.