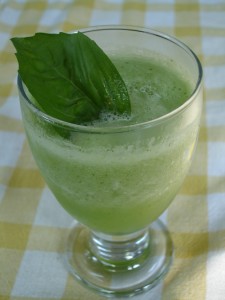 If you had a chance to stop by the North Hills Midtown Farmers' Market July 2nd, you might have had one of these green chillers. The original recipe came from Heidi Swanson's "Super Natural Every Day". I thought it was a bit sweet so I decreased the honey. There were only a few folks at the market who said it needed to be sweeter, but then I wasn't really measuring  too precisely either, given the wasps that took up shelter in my tent to cozy up to the honey jar. All I can say is that I was given 4 huge cucumbers. The kind the farmers can't really sell and I used every bit of all of them on the 90+ day.
Cucumber Cooler for Two

1 – 1/2 cups chopped cucumber, partially peeled
½ cup cold water (sparkling)
3 cups ice cubes
¼ cup Honey
½ lime, juiced
Pinch of pink sea salt
Using a blender, combine all of the ingredients. Pulse until it's completely smooth and frosty; free of ice chunks. Serve immediately.