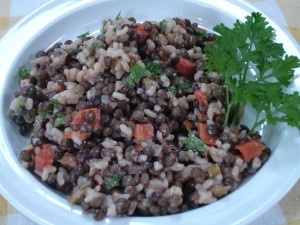 This is an easy dish to prepare if you saute the celery, onions and carrots together when they come into season and then freeze them in small quantities. You can also pre-cook rice and freeze it. I always try to make a little extra so I have some in the freezer for a single serving. All you have to do at that point is cook up your lentils and you are ready to throw this together. The other nice thing about this recipe is you can add some meat to it if you are camping and want a one pot meal. It's also excellent with additional broth and a little meat or meat substitute thrown into it.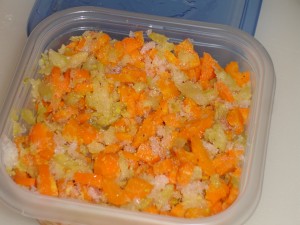 I'm going to give the recipe as if you are starting from scratch. It will seem like it takes some time, but most of the time is in the prep with all the chopping of vegetables. It is easy enough for a beginner cook to make this successfully so don't be intimidated by the number of steps when you see it in list form down below!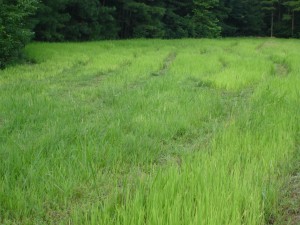 As usual, I can't say enough for buying this from you local sustainable farms. I was so excited to be able to serve this dish today at the North Hills Midtown Farmers' Market using the rice grown at Edible Earthscapes by Jason & Haruka Oatis last year. They are one of only two farms growing rice in North Carolina and a dear friend got me a pound of rice last year, foregoing some for herself! It has a lovely nutty flavor and texture similar in size to white sushi rice. This doesn't have all of the outside hull polished off so it's more nutritional, but takes a bit longer to cook. They harvested by hand last year, so I was very careful not to spill.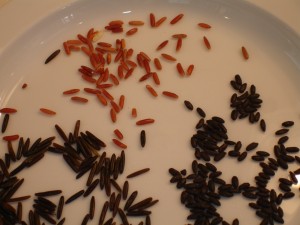 This recipe is great using Maine's wild black long grain (also hand harvested) and a red Himalayan Red long grain rice. Both are more expensive that I care to admit, but you don't need a lot in these dishes and I promise it's really tasty. When I started making this recipe, I always used brown or white Basmati which is readily available.  I would not recommend the green bamboo rice or the short grain black rice. I don't think either work well for this dish.
Lentil, Vegetable & Rice Salad
Ingredients for 6-8 Servings
1 cup of carrot, peeled & chopped
1 cup of celery, chopped
1 cup sweet onion, finely chopped
1 teaspoon roasted garlic, minced
1 cup lentils, (French-green)
1 ½ cup chicken or vegetable broth
1 bay leaf
1 cup long grain Basmati rice
1¾ cup chicken or vegetable  broth
½ cup chopped flat-leaf parsley
½-1 teaspoon lemon juice
1 tablespoon fresh thyme leaves
1 teaspoon celery seed
Salt & Pepper
Preparation
Heat 1 tablespoon of EVOO in saucepan and sauté the onions, celery and carrots until the onions just start to look translucent.
Stir in the lentils and celery seed.
Add 1 ½ cups of broth and bring to a boil.
Decrease the heat to medium/low, cover and simmer gently until the lentils are just tender, not overcooked or even slightly mushy. About 15 minutes.
There should be very little liquid left.
Meanwhile bring the 1¾ cup broth to a boil and cook the rice according to directions.
Fluff the rice and add it to the lentils.
Add the fresh parsley, thyme and lemon juice.
Add salt & pepper to taste
Notes
To make soup, add 2 cups of additional broth: maybe some mushrooms if they are in season
If serving warm, consider adding a meat (meat substitute) of some sort.