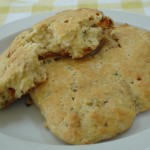 This recipe came about as a sidestep from a recipe I worked on last week with shredded zucchini & chevre. Basically I thought the little dark orange and red dehydrated sungold cherry tomatoes would be pretty dotted in a scone and taste good with the chevre. I didn't have a chance to try bacon pieces before the  Raleigh Downtown Farmers' Market this morning, but I'm betting that would be good as well! I used heavy whipping cream today to keep the scones as moist as possible because of the high temperature.
This recipe is for those "non-bakers" out there. The dough gets a little sticky, but there's nothing magical about making  these, and no special equipment is necessary. You can even make them in a toaster oven if you are careful. They are delightfully light despite all the cheese and butter, and would be great for lunch with a salad during the summer or soup in the cooler months  if you're not up to savory breads for breakfast.
Being scones, you will have to trust me when I say you need to leave the fat in these and you should just make the small batch and enjoy them occasionally. The fact that it takes 24 hours to dehydrate the little sungolds in your oven should not deter you. You can put them in your oven to bake at 150-170 on a baking sheet with parchment paper under them, and sprinkle them with a herb mix and they will be finished in a day, rewarding you with a super-healthy snack (even if the scones aren't).  This recipe makes four healthy size scones. If you want two, then just make some scrambled eggs out of your extra egg and milk mixture at the end to eat with the scones.
Dried Tomato Scones with Chevre
Ingredients
1 1/4 cups of AP white unbleached organic flour
1 tablespoon plus 1 teaspoon of fresh baking powder
1/2 teaspoon Himalayan sea salt
2 oz regular cream cheese (at room temperature)
4 oz chevre (at room temperature)
2 oz cold butter
2 tablespoons finely chopped fresh chives
1/3 cup chopped dried sungold cherry tomatoes (dried with herbs, no oil)
1 egg, lightly beaten
1/2 cup cream or half/half
1 tablespoon whole or low-fat milk
Preparation
Preheat oven to 400F
Sift the flour, baking powder and salt together in a bowl.
Using forks or a pastry cutter, mix the cream cheese and chevre into the flour in small bits.
Add in the butter using a pastry cutter so you don't warm it up.
Working quickly to keep the butter cold, add in the chives and sungold tomato pieces using the pastry cutter.
In a separate bowl, mix the egg and cream together. This will make about 3/4 cup of liquid.
Using 1/2 cup of the milk and egg mixture and save the rest. Gently pour the 1/2 cup of egg and cream mixture into the flour dough and working quickly with your hands, loosely incorporate the milk into the batter and form a loose ball in your hands. Be careful not to overwork the dough.
Add a tablespoon of regular milk into the leftover egg and cream mixture and beat together.
Cut the dough with a large knife into 4 pieces of scone and brush the tops and sides
On a floured surface, pat out the ball until it's about 1″ thick and about 9″ diameter. Focus on the thickness more than the diameter and don't worry if it doesn't look perfect and neat. As long as the dough sticks together, it will taste good.
Using a pastry brush, cover the top and sides of each scone with the egg and milk mixture. It will soak into the flour and batter as you brush it on. Don't cover them a second time in wash. You don't want scrambled eggs on the top of your scone. You will probably have some egg and milk mixture left over.
Bake on a baking sheet covered with parchment paper at 400F for about 18 minutes, until they are golden and browned but not all over. Just a light coloring. These are easy to over-cook by a minute or two. The photo shows them about 2 minutes overcooked. They should not be quite that brown on the bottom or the top.
Cool on a baking sheet about 10 minutes before serving or store in airtight container after about 20 minutes. They tend to dry out quickly.