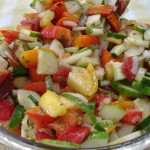 This salad is so versatile. If you are able to make it just before serving with fresh ingredients, it tastes wonderful. But sometimes, we find ourselves in a pinch for time, and we need to prepare a salad early. Unfortunately, veggies like cucumbers and fruits like tomatoes, weep their juices when they sit around. It's not a problem with this salad. You can add any sort of interesting bread that you have on hand. I have used yeasted corn bread croutons, toasted focaccia bread saturated with olive oil and spices, and lovely fresh crusted ciabatta bread. The point of the bread is just to soak up all those seasonal juices of summer.
So dig in and make this salad while the tomatoes are ripe and plentiful! This recipe serves at least 4 people.
Heirloom Tomatoes, Cucumbers & Sweet Onion Salad
Ingredients
3 lbs of heirloom tomatoes, all sizes and varieties
1 lb of small cucumbers with thin skins
1/2 cup of thinly sliced sweet onion
4 tablespoon Extra Virgin Olive Oil
1-2 tablespoons White Balsamic Vinegar
1/2 teaspoon sea salt
1/4 teaspoon fresh ground pepper
pinch of sugar is optional
teaspoon of fresh thyme leaves, or chopped rosemary (optional)
Preparation
Whisk together the olive oil, vinegar, salt, pepper and adjust the sugar if you choose to use it in the dressing.
Set aside while you rough chop the heirloom tomatoes, slice the cucumbers (skin on) about 1/8″ thick in quarters or halves, and thinly slice the sweet onion.
Combine the vegetables and about 30 minutes before serving, dress the salad and let it sit at room temperature.
Notes
If you have some fresh or smoked mozzarella on hand, it's great cubed up in this salad at the last minute. Grated cheese will tend to clump in this salad.