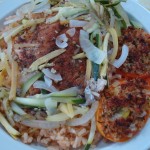 This post should finish up the series of recipes for the Raleigh Downtown Farmers' Market this past Wednesday. The folks at Locals Seafood suggested I try Sheepshead fish in this recipe because it remains firm when cooked. The taste of this fish is fairly mild, but it will absorb all sorts of spices and sauces and it hold up to just about any cooking process, which makes it versatile for many dishes. It's also not expensive and fairly easy to find. And, I enjoyed working with it a couple of weeks ago when I made a fish stew!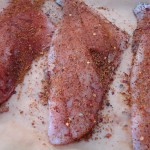 You can grill this dish anywhere. Just make sure to use heavy-duty aluminum foil for easy clean up.  Simply cover the cooking surface of a  heavy grilling pan with the foil. In a pinch, use a 2″ deep cast iron skillet and fit the foil in it! You can use a heavy cast iron one like those from Lodge or an inexpensive, but heavy,  metal one that won't warp under higher temperatures. It's helpful if it has a lip around all four edges in case you have a tear in your foil. You can contain the mess.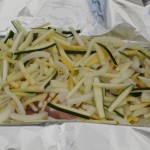 First coat your foil-covered surface with just a tablespoon of olive oil. You just need a little to keep the fish from sticking. Some of the skin will still stick, but it isn't a problem at serving time. Lay your fish on the foil skin side down on the foil; flesh side up to the sky. Coat the fish with any rub or seasoning (lemon juice, garlic, chives, thyme, rosemary, marjoram, pepper flakes). At this point, you can stop and cover the fish tightly with another piece of foil, or spread vegetables on top of the fish and around the sides. Your vegetables will need to be thin and require the same or less cooking time than the fish.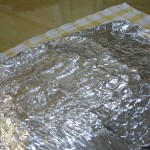 The fish and vegetables are going to cook for at least 8-10 minutes and probably more depending on the type of grill. You will be listening and smelling to figure out the timing on this dish. The more fish you are cooking in one package, the longer it takes to cook  the dish. Try not to overcrowd the dish or use ingredients that are too chilled because it will take so long to come up to temperature, that parts of the fish or vegetables may get over-cooked in the process.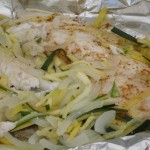 As the fish and vegetables come up to temperature, you will hear a lot of sizzling and popping. The fish and vegetables will start to smell good as they get close to being finished.  When it's finished, the fish will remain white and flaky. The vegetables will be in a range of just barely cooked to some steamed rather well. It all tastes good so don't worry about it. Because I leave this covered and sitting to let the fish rest, the vegetables tend to finish cooking while the package is still shut tight so I pull it off just a couple of minutes early to let it finish cooking on its own.
There aren't specific quantities for this recipe. It's more like a campfire recipe. You'll need to adjust based on your appetite and how many people you are feeding. For two of us, I prepare one fillet each and about 2 cups of finely sliced or julienned vegetables. Generally I use zucchini, summer squash and sweet onions.  I like to use the smaller vegetables in this dish because there are fewer seeds and it will make a difference in how the dish cooks up. New Grass Gardens had some this past week that were just the right size. Pattypan squash are great for this dish as well.. It takes about 2 small squash per person once they cook down a bit and an onion that weighs in around 4 ounces. Wild Onion Farms has had some excellent onions this season that ranged in size and flavors.  Don't go too heavy on the onion in this dish. Just sprinkle the Old Bay seasoning on top of the fish before you add the vegetables so they cook with the fish. If you are not familiar with Old Bay, it can be salty and many consider it hot. Start with 1/2 teaspoon per fillet. Each fillet was a little less than a half pound.