Last week I was able to pick up some wonderful white sweet corn from Cedar Rock Family Farm at the Midtown Farmers' Market in Raleigh. Several of the vendors also had beautiful heirloom tomatoes and I was able to pick up both tomatoes and onions from Wild Onion Farm. The last thing I needed was a bit of Chapel Hill Creamery's Carolina Moon to make a recipe out of Holly Herrick's "Southern Farmers' Market Cookbook". The original recipe only calls for the onions and tomatoes, but fresh corn goes well with both of those and it is currently in season.  What's missing from my recipe are green onions. They are just a couple weeks out of season here. Up around Maryland & Virgina you can get them at the same time as tomatoes. But I think it works just as well with the local sweet onions that are freshly dug from local farms.
This is a very simple recipe, and uses only one cast iron pan. It's more healthy with the olive oil substitute for most of the butter.  The cheese is used in a limited quantity but the flavor comes through. The downside to this recipe is that it doesn't freeze. But the corn, onions and roasted tomatoes freeze so you could make some variation of it during the fall or winter.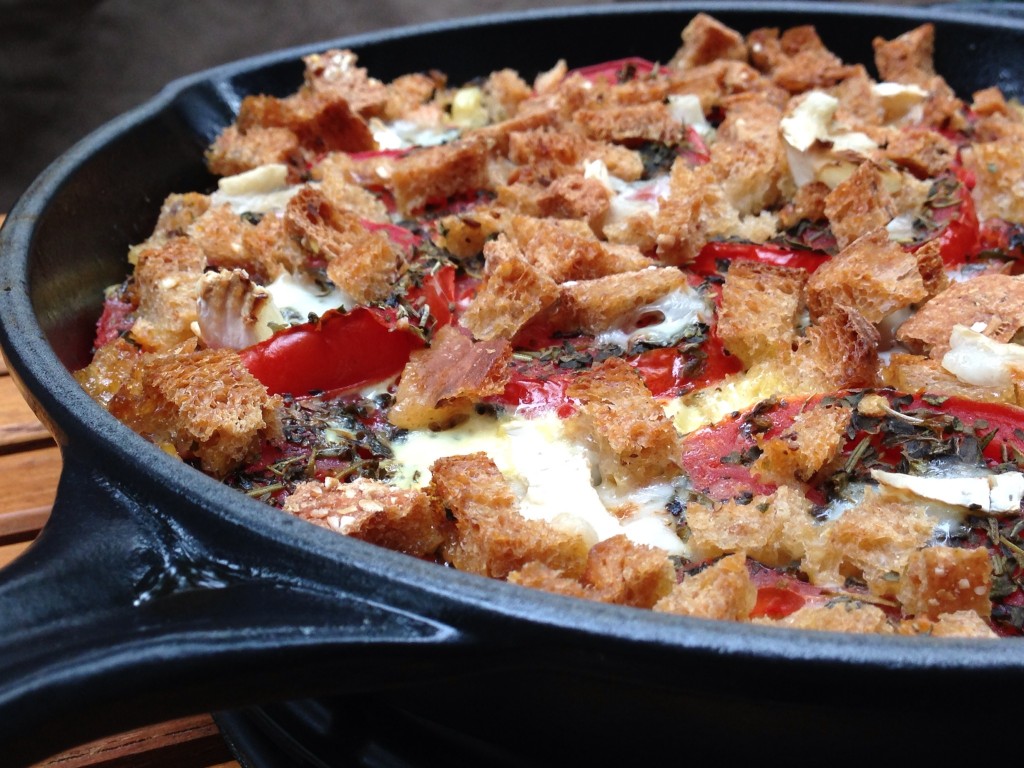 Fresh Corn, Tomato & Onion Gratin with Local Brie

Ingredients
1 tablespoon butter
1 tablespoon olive oil
12 ounces of thinly sliced sweet onion, cut in half circles & separated
1/2 cup fresh ears of corn from the cob
8 ounces of 1/4″ sliced tomato (dark red, higher acid type)
Sea salt & fresh pepper
2/3 cups of low-fat or whole milk
1 egg
2 tablespoons fresh chopped parsley
2 tablespoons fresh chopped basil
1 cup breadcrumbs
1/3 teaspoon fresh thyme leaves (pulled from the stems)
Zest of 1/2 lemon
1/4 pound Chapel Hill Creamery -Carolina Moon Brie (or New Moon Brie)
Preparation
Preheat oven to 350F.
Heat butter and olive oil in a 10-12″cast iron skillet and add the onions. Cook, stirring occasionally, until the onions are softened and lightly season with salt and pepper.
Add the raw corn to the onions and cook for about 2 minutes on medium-low heat so you don't brown the onions or corn. Use a lid if necessary to steam the corn.
Set the pan aside to cool down.
Toast the bread crumbs lightly in a toaster oven or pan without burning them. Add the lemon zest and thyme. Toss together and set aside.
In a separate bowl, whisk together the milk and eggs. Add the parsley and basil and blend well and set aside.
Slice the cheese into 1/4″ thickness and then gently chop into 1/2″ pieces to spread throughout the gratin.
In the cast iron skillet spread out the onions and corn, add the slices of tomatoes to cover the onions and corn.
Pour the egg custard over the vegetables.
Place the sliced cheese pieces over the tomatoes and top with the bread crumbs.
Bake for 30 minutes until it's bubbly and turning a light brown color.
At the 15 minute mark add a cover of parchment paper or hard cover in to avoid burning the bread topping.
Allow it to sit for 10 minutes before serving.
Notes
8/15/13 – Tested this recipe using Firefly Farms Merry Goat Round – Brie style (replacing Chapel Hill Creamery Carolina Moon- Brie). You can purchase the Goat Brie at Weaver Street. Turned out excellent. Also used Chicken Bridge Bakery Organic Multigrain Sandwich Bread. Wonderful texture and flavor in this dish.