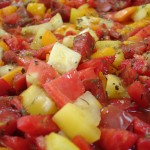 We're having an excellent tomato season so why not spend some time making some fun condiments that you can use now and freeze for the winter months. This little jam is simple and tasty and it goes well with burgers, meatloaf or on crostini with sausage and cheese. There's no picture of the jam because it's not very pretty on it's own and being dark red doesn't help it's cause when photographed with other things!
The original recipe is from Sara Foster's book "Southern Kitchen". I have simply reduced the amounts and tweeted them just a bit to make less. This recipe has less ginger, thyme, red pepper flakes, and  no chili powder, I used a Red Hawaiian Sea Salt from Savory Spice that I think works well with the tomatoes, and some locally produced Sorghum from the State Farmers Market Restaurant to replace some of the brown sugar, and I added a little butter at the end to make it just a little richer and smooth out the consistency. You can certainly leave out the butter. This makes enough to freeze a couple of small containers for later bbq's with friends or cover the top of a meatloaf or on your sliders with some pimento cheese. You'll just be using your small food processor or a potato masher for this so it's something you can make with the kids.
Tomato Jam
Ingredients
1 teaspoon raw garlic, minced
1 tablespoon olive oil
1/2 cup chopped raw sweet onion
2 cups roasted tomatoes with their juice
1/3 cup dehydrated Sungold (or other low acid yellow/orange) tomato
1 tablespoon sorghum
1 tablespoon light brown sugar (not packed)
2 tablespoons apple cider vinegar (Bragg's recommended)
1/4 cup fresh orange juice
1 1/2 teaspoons fresh orange zest
1/2 teaspoon fresh thyme leaves
2 whole cloves
1/2 teaspoons red pepper flakes
1 1/2 teaspoons fresh grated ginger
1/4- 1/2 teaspoon Red Hawaiian Kai Sea Salt
1/8-1/4 teaspoon Mixed Peppercorns, fresh ground
2 teaspoons butter (salted or unsalted)
Preparation
Heat the olive oil in a non-reactive pan on medium heat and add the onions when it's hot. Cook the onions for about 5-10 minutes until they are soft and golden. You don't need to brown them.
Add the garlic and cook for just another minute.
Add the tomatoes, sorghum, brown sugar, vinegar, orange juice and zest, ginger, thyme, red pepper flakes, cloves, salt and pepper (begin with the smallest amount and adjust to your taste as it cooks).
Bring the mixture to a gentle boil and reduce to low heat.
Add the butter and cook for about 20 minutes stirring occasionally.
Let cool and adjust the salt & pepper using a fine grain of the salt. You can achieve finer grain salt using a mortar and pestle.
Cool and use a food processor to create a  smooth jam or a potato masher for a chunky jam.