My bulk box of tomatoes from the  farmers' market has included quite a few yellow (Lillian's Yellow) and orange tomatoes of late. It seemed like a huge challenge at the time, but a little internet research turned up some interesting dedicated recipes for these bright heirlooms.
This yellow heirloom is a beefsteak variety with very few seeds,  sweet and juicy just like its red cousin. This one is quite pale compared to many of the other yellow varieties, but considered one of the best tasting sliced tomatoes. The skin is thin and they seem to bruise easily, so you need to handle them with some care.  I have always enjoyed it in salads for both its flavor and color, so I thought it would be fun in a sauce, albeit a bit wet; but you can save the extra juice from the sauce for other recipes. It freezes quite well.
After selecting  Heidi Swanson's recipe as a base (Golden Tomato Sauce), I made some immediate changes based on the ingredient list. Heidi's recipe calls for a  yellow plum tomato that has more flesh, thicker skin and stronger flavor. Her recipe also relies on garlic and red pepper flakes which I felt would be a bit much for our southern summer heat. I wanted to create a lighter sauce that would be bright and almost refreshing. Mine is less potent on the heat side and uses a blend of herbs, Chardonnay Oak Barrel salt,  lemon and walnuts to keep the sauce light but interesting.
This takes less than 30 minutes to prepare start to finish because you don't need to cook this sauce for very long. It makes enough for 2 people and I would suggest some greens as a side to it. Save any excess juice for another recipe or throw it into your water when you cook the pasta.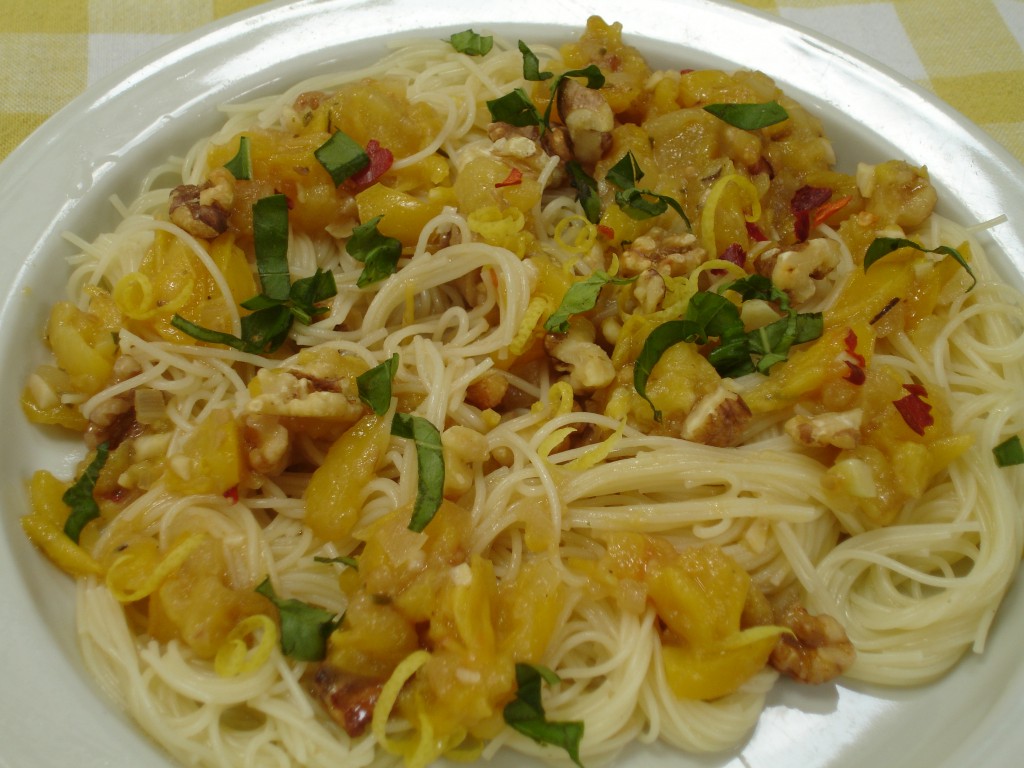 Heirloom Yellow Tomato Sauce
Ingredients
1 1/2 pounds "Lillian's Yellow" Tomatoes, diced
1 tablespoons finely chopped raw garlic
2 tablespoons finely chopped raw sweet onion
1/2 teaspoon Chardonnay Oak Barrel Salt
1/8-1/4 teaspoon fresh ground pepper
1 teaspoons finely chopped fresh rosemary
1/2 teaspoon light brown sugar
1/2 teaspoon fresh thyme leaves
pinch of red pepper flakes (less than 1/4 teaspoon)
1/2 cup toasted walnut pieces (skins removed)
1 teaspoon finely chopped lemon zest
1/4 cup of julienned fresh basil
Preparation
Remove any bruised or overripe sections of the tomatoes and dice into 1/2″ pieces.
Add olive oil to stainless steel saute pan set on low and cook the onion for 2 minutes, without browning.
Add the garlic to the onion and cook 1 minute without browning. add the tomatoes and salt and cook for about 10 minutes on medium high to reduce the liquids. Continue to stir so the sauce doesn't brown or burn.
Add the rosemary and brown sugar and cook for 5 minutes.
Add the thyme and red pepper flakes and cook for 2  minutes.
Turn off the heat and toss with the walnuts,  lemon zest  and basil.
Serve over pasta of your choice.