Kellogg's Breakfast is the name of this bright orange juice-colored heirloom tomato that's been showing up in my bulk box of tomatoes lately. This is another beefsteak that can get huge! It's meaty, juicy, sweet and beautiful on a salad. But we're making sauce out of this today. After it cooks down it kind of reminds me of the color of one of some of those canned tomato pasta "meals". But it tastes a lot better and has a delightful texture. It is thin-skinned like it's cousin "Lillian's Yellow", so be careful carrying it around and cleaning it.
We're going to use almost the same recipe for this sauce as the yellow, but we're adding the spice through a local sausage instead of directly into the sauce this time. And we're going to add a little more brown sugar to deepen the color of the sauce and contrast the increased spices from the sausage.
The Kellogg's Breakfast is going to cook up with a deeper flavor than the yellow but not as acidic as a traditional red beefsteak tomato. This is very simple to throw together in one pan. And, I hope you have remembered to keep some pre-cooked sausage in your freezer because this is one of those times when you will add it at the end and save yourself about 15 minutes of cook time and the same in clean-up time being prepared. One meat-free product that I treat the same way is Gimme Lean Sausage. I break it up in a non-stick pan with a little olive oil to give it that "browned" texture and appearance. Then I freeze it in small quantities to use in recipes like this or on a flat bread pizza.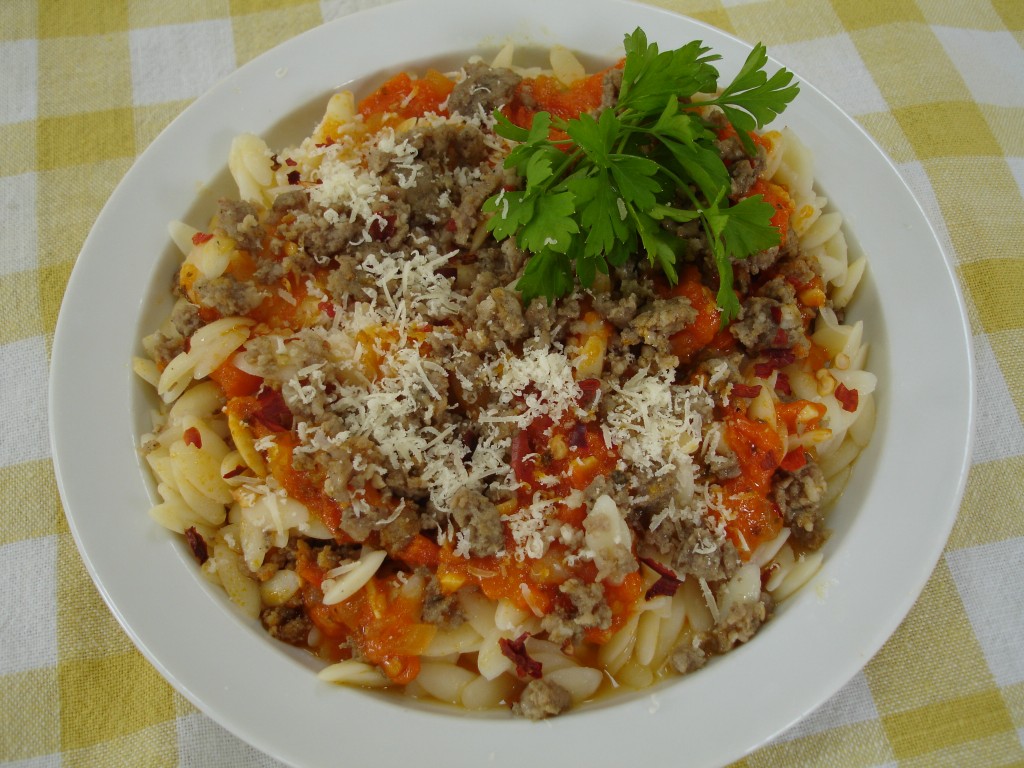 Kellogg's Breakfast Heirloom Tomato Sauce
Ingredients
3 tablespoons olive oil
2 pounds diced Orange Kellogg's Breakfast Heirloom tomatoes
2 tablespoons finely chopped raw garlic
3 tablespoons finely chopped sweet onion
1 tablespoon, finely chopped fresh rosemary
1/4 – 1/2 teaspoon sea salt (your sausage will have salt)
1 teaspoon light brown sugar (not packed)
2 teaspoons fresh thyme leaves
1/2 teaspoon finely chopped lemon zest – optional
red pepper flakes – (optional depending on your sausage)
1 cup spicy sausage (or meat substitute product)
1/4 cup julienned fresh basil leaves
or 1/2 cup finely chopped fresh flat-leaf parsley
Preparation
Add olive oil to a stainless steel pan and saute onions on low for 5 minutes.
Add garlic to the onions and saute for 2 minutes on low.
Add tomatoes, rosemary, salt and sugar and cook on medium high to reduce the liquid for about 10 minutes.
Add thyme and pre-cooked sausage and warm through.
Mix in julienned basil (or parsley) and lemon zest (optional) right before serving.
Notes
The sausage should have been drained of grease prior to adding to the sauce.
Do not cook the sausage in the sauce the entire time. You will loose a lot of the flavor and texture of the sausage.
Balance any additional hot peppers with your sausage and adjust for your taste.
Balance the salt and pepper after the sausage is heated all the way through the sauce.
I used a simple sea salt because the sausage has so much in it already that would overpower almost anything else.
This sauce would be great for quick flat bread pizzas on the grill.
This sauce will hold up to a feta or chevre cheese topping.