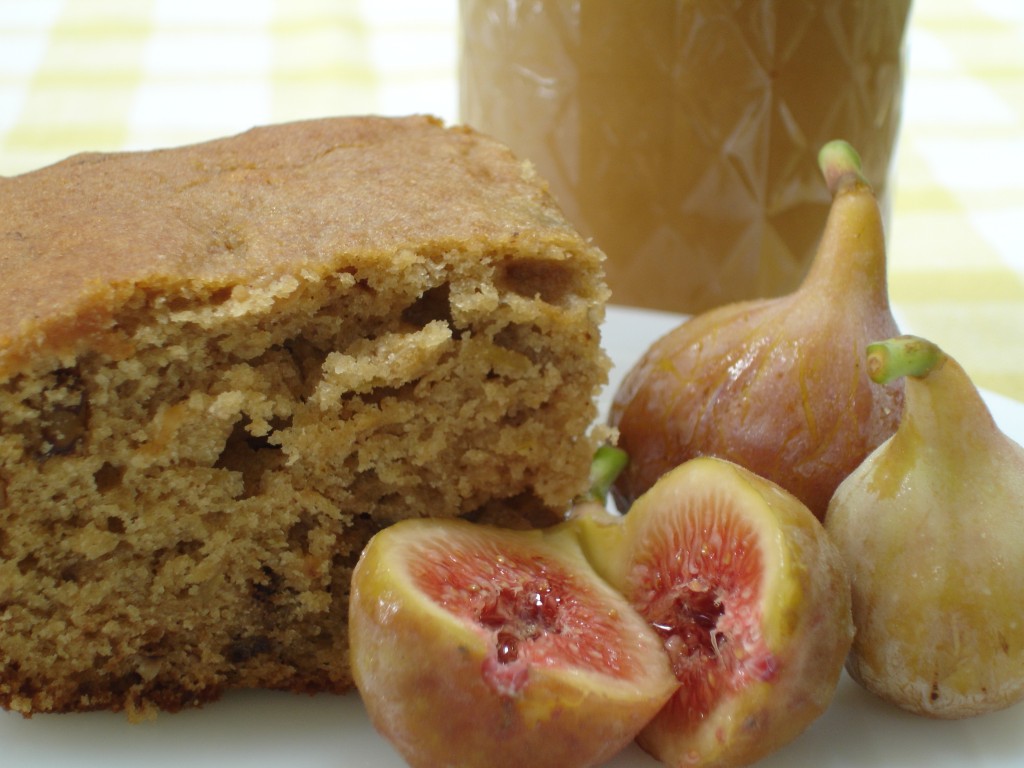 I had really planned to make a fig cake this week because there's an abundance of figs since the rain. But most of the fig cake recipes I looked at seemed like something you would want in the fall and it's still almost 100F here so I widened my search a bit.
The original recipe for this cake comes from Smitten Kitchen but I didn't have enough home-made applesauce in the pantry to make the original. What I had on hand was a lot of fresh fig jam and fresh figs. While this didn't use up as many figs as I would like, it's a great start and easy to assemble and bake.  I'm pretty sure you could swap out a bit more of the applesauce for fresh figs or fig jam.
This cake doesn't need frosting, in my opinion.  I think it would be entirely too sweet and detract from the delicate undertones of ginger, cloves and cinnamon. This cake stays moist for days, as promised in the original recipe. I've made some swaps and additions to the recipe based on what I had on hand and trying to make it a little more healthy. Feel free to search your pantry and do the same.
Applesauce & Fig Cake
Ingredients
1 cup all-purpose unbleached organic white flour
1 cup white/wheat organic flour
2 teaspoons baking powder
1/2 teaspoon baking soda
1/2 teaspoon cinnamon (my applesauce and fig jam have cinnamon)
1/2 teaspoon ground ginger
1/8 teaspoon ground cloves
1/2 teaspoon Himalayan Salt
3 ounces salted butter (Homeland Creamery) at room temperature
1 cup light brown sugar (unpacked because the figs and jam are very sweet)
1 teaspoon Vanilla extract
2 large eggs
1 ounce virgin coconut oil (liquid)
1 cup home-made (cinnamon) applesauce
1/4 cup home-made fig preserves
1/3 cup cleaned & chopped fresh figs (they may be previously frozen)
3/4 cup chopped toasted walnuts
Preparation
Preheat the oven to 350F.
Butter or use coconut oil to coat the inside of a 9″ x 9″ square pan.
Sift together the flours, baking powder, baking soda, spices and salt. Set aside.
On high speed, beat the butter, brown sugar and vanilla together until it is lighter & well blended.
Add in one egg at time and beat on medium / high until both are well blended.
Add in the liquid coconut oil. Coconut oil solidifies in cooler temperatures and you can heat it on low to make it liquid again. It blends much better into the batter.
On low speed, blend in the applesauce, fig preserves and chopped figs until they are barely incorporated. Don't over-mix.
Hand mix the walnuts with a couple of turns of a spatula.
Pour evenly into the cake pan and bake for 35-40 minutes.
Notes
I used an 8″ x8″ pan and the corners got a bit more cooked than I would have liked at 42 minutes but the center was not finished at 35 minutes.
This might cook more evenly in a circular pan or you could make two thin stack circular cakes if you would like to use cream cheese or a mix with chevre icing. It might work well in the small serving bread pans but you would need to watch the bake time.
It might be possible to use all fresh figs instead of preserves and possibly swap out more of the applesauce so the volume of each was even.
Pecans could be easily substituted in this cake if you have access to them locally.