I really didn't expect to love this recipe. I figured it would work well for a market demonstration, but not be something I'd put in my binder at home. But this honestly has great flavor and it was really flexible when I started playing with the spices and meats. The initial test of it was a vegetarian entrée, and then I tried it with ground beef and spicy sausage. Venison is next. I'll let you know how that works out in a couple of weeks.
This recipe is amazingly fast too. Most of the recipes I found on-line roasted or grilled the eggplant. I was trying to find one that could use some frozen (or home canned) ingredients so it would be budget friendly and healthy.  One thing to note on this recipe is that I used Rosa Bianca Eggplant. It is a mild eggplant compared to it's larger dark purple cousins. Fewer seeds and thinner skin mean you can just slice and dice this right into a cast iron pan with some olive oil. If you choose to add some smoky flavor to it (it is chili after all!), you can use some Alderwood or Chardonnay Oak Barrel Salts with the eggplant. Then use a lighter sea salt for finishing. Along with the different chile powders, you'll have multiple levels of flavor as you devour this.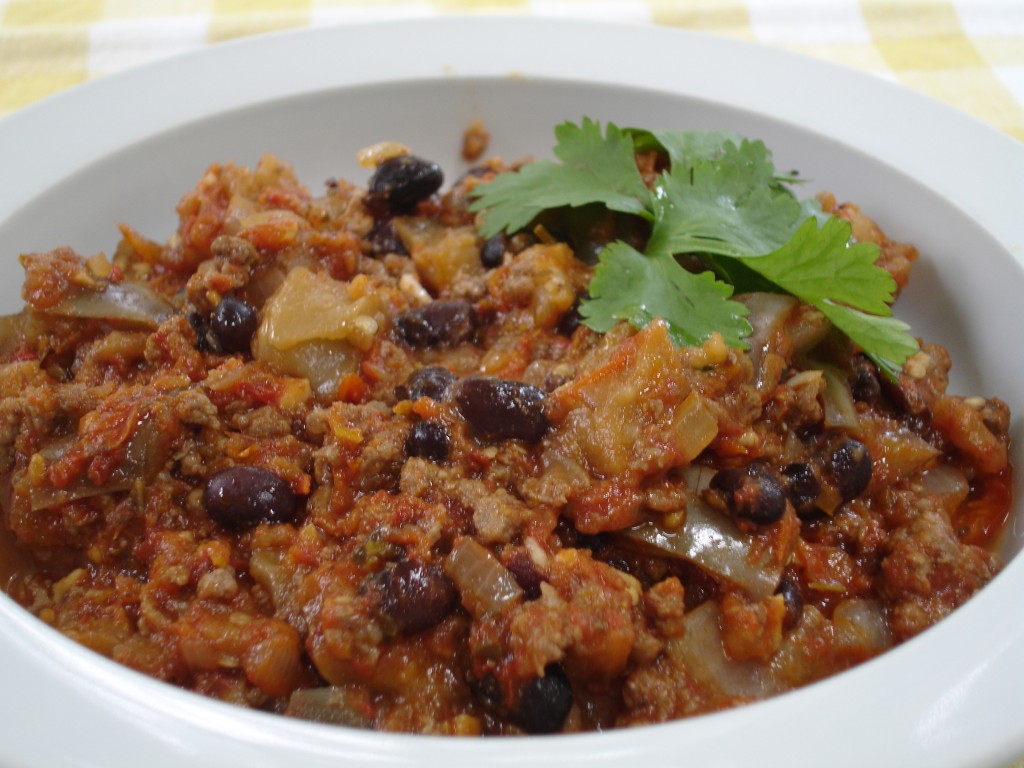 Eggplant & Black Bean Chili
Ingredients
4 tablespoons olive oil
1 Rosa Bianca Eggplant (just under a pound)
1/4 cup chicken or vegetable broth
2 cups of Roasted Tomatoes
1/2 cup of dehydrated sungold tomatoes (optional)
1/4 cup of sweet yellow, orange or red roasted peppers (skins removed after roasting)
1 cups chopped sweet onion (pre-roasted will work)
1 tablespoon minced garlic
1/2 pound ground beef, spice sausage or ground venison
1 teaspoon Worcestershire
1 teaspoon Aleppo crushed Red Pepper flakes
1 teaspoon Mild Chimayo chile powder
1/2 teaspoon Alderwood smoked salt
1/2 teaspoon Chardonnay Oak Barrel smoked salt
1 cup cooked black beans (rinsed and drained)
Preparation
Wash the eggplant in cool water and dry. You can leave the skin but slice off any blemished parts. Working quickly chop the entire eggplant into  1/2″ cubes.
Put 3 tablespoons of olive oil in a heavy pan and heat on med/high. Add the eggplant and the smoked salt. Saute for about 5 minutes, stirring as needed to avoid burning.
Add the chicken broth and cover. Simmer for 5 minutes. The eggplant should be tender but not falling apart.
Remove the eggplant and set aside.
Add 2 tablespoons olive oil to the pan and saute the onions and garlic until they are translucent (about 5 minutes)
Add the roasted tomatoes spices, chopped peppers, chile powders, and Worcestershire to the onions and cook another 5 minutes.
Add the eggplant, black beans and a ground meat of your choice to the vegetable and spice mix.
Adjust the seasoning and cook until it's heated through.