I'm always looking for ways to adapt recipes and this is a good example of a summer salad that can really be used year round. This is very similar to the couscous salads that I've posted in the past and used in several markets to highlight whatever vegetables were in season. The nice thing about these salads is that you can roast, steam or saute many of these vegetable in-season and have them as a second harvest at another point in the year. So buy a little extra at the farmers' market and put some into the freezer to enjoy later!
Quinoa is the seed of a broad-leaf plant that is most closely related to spinach and beets. It was domesticated more than 4000 years ago for consumption. It has great nutritional value with an average protein content of 15% and a balanced set of amino acids which make it a complete protein for human consumption. And it's gluten-free and a great substitute for couscous or white rice.
You can eat this side salad warm, chilled or at room temperature and it holds for a couple of days if you want to make it in advance or have it a couple of days in a row. This recipe will easily feed 2-4 people and you should feel free to change the vegetables and nuts to fit your personal preferences!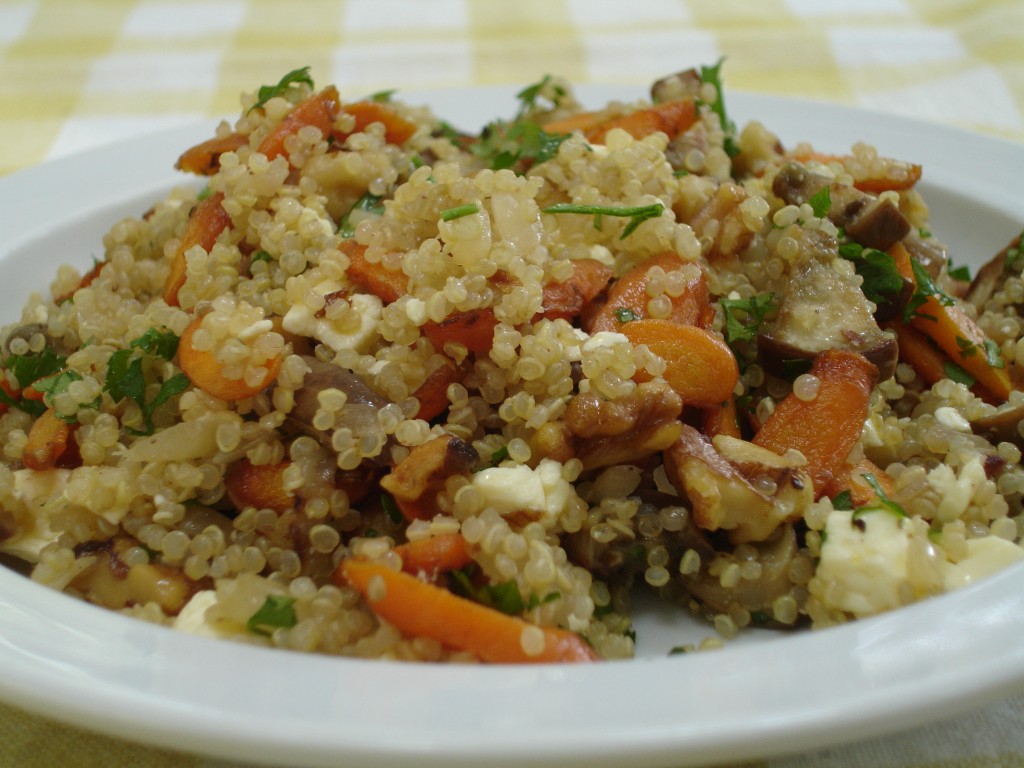 Quinoa Salad with Locally Roasted Vegetables
1 cup of cooked quinoa (1/2 cup uncooked quinoa: 1 cup water)
2 tablespoons sauteed or roasted onion
1/2 cup diced cooked carrots (steamed, roasted or sauteed with Himalayan Pink salt)
1/2 cup diced Japanese eggplant  sauteed in olive oil with a light smoked salt like Chardonnay Oak Barrel or Alder Wood
1/4 cup toasted walnut pieces (or sauteed in butter with the carrots)
1-2 tablespoons chopped parsley or 1/4 cup of chopped green onion
1/4 cup of Feta broken up into pieces
Preparation
Cook the quinoa according to directions or use a toasting method.
Saute the vegetables separately so they hold their own flavor. You can do them one after the other but do the eggplant last as the smoked salt will change the flavor of other vegetables.
You can let the quinoa cool down or add the hot vegetables to it while it's warm.
If the salad will be served chilled, let the quinoa cool before adding cheese and fresh herbs.
Taste and season with sea salt & pepper.  Smoked salt is just an undertone, use a sea salt to finish.
Notes
Alternate nuts include pecans, pine-nuts and almonds
Alternate vegetables include peppers, cherry tomatoes, summer and winter squash
Alternate cheese includes chevre, hard goat & cow's milk
Alternate herbs included fresh thyme, rosemary, oregano and marjoram
Other finishing salts that would work well with the nutty flavor of the quinoa are the Hawaiian Black or Red Gold salts but they are intense so watch the quantity that you add carefully.