Getting ready for the Triangle American Diabetes Association Step-Out Walk in October has me testing quite a few new recipes that are gluten-free and low in sugar. As I browsed through one of the books on loan to me I found a Quinoa & Browned Onion Salad that looked pretty tasty and adaptable to some local ingredients like dehydrated apples.  I think you could easily make this with fresh apples, but the ones I picked last week were clearly a variety that wasn't going to hold very well, so I went ahead and dried them right away. The flavor is concentrated  and slightly tart, but the color is a little on the brown side, even with a lemon wash as a color preservative.
I'll have this at the North Hills Farmers' Market tomorrow so we'll see how well it holds up sitting in the refrigerator tonight for about 16 hours. It tastes pretty good now, but you can taste all of the individual flavors as you eat it. I'm not sure whether it will be as good or better when the flavors have a change to mingle with each other. We'll see.
The other thing I'd like to try in this the next time I make it is dried figs or dried cherries instead of cranberries. Both would go well with the balsamic vinegar and orange zest. The cranberries I had on hand are organic, but they were pre-sweetened and  had added oil to keep them soft. So they aren't my favorite choice. I think some dried cherries from Western North Carolina might be a wonderful addition.
I made the salad with toasted walnuts but it would be delightful with toasted pecans. I simply ran out after making granola earlier in the day. I also experimented with the salts again. My favorite with this salad was the Savory Spice Chardonnay Oak Barrel Smoked Salt. You'll have to add it to the onions and quinoa because it comes in the larger grain so it needs to cook and break up a bit. Or you can grind it down with a mortar and pestle to a fine grain.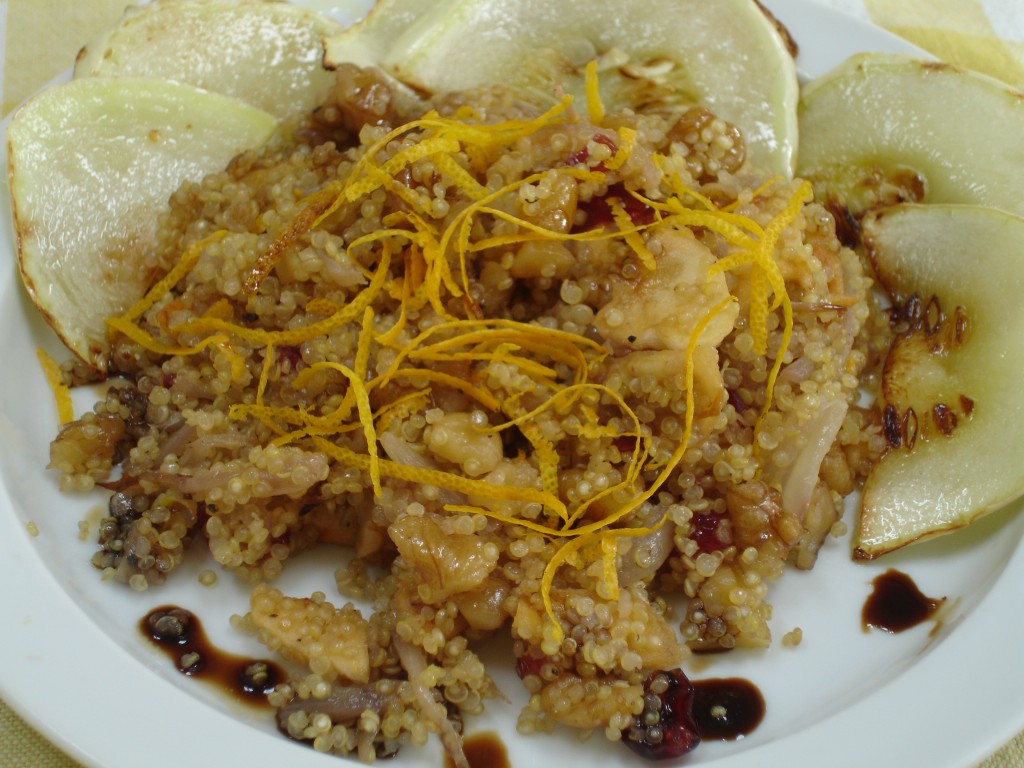 Quinoa Salad with Apples, Onions & Nuts

Ingredients
1 1/2 – 2 cups cooked quinoa (use water or broth)
3/4 cup chopped toasted nuts (walnuts or pecans)
1 cup raw thinly sliced sweet onions
1 tablespoon olive oil
1/2 – 3/4 cup chopped dehydrated slightly tart apple (1/2-1 cup fresh mildly tart crisp apple)
1/4 cup dried cranberries or cherries
zest from 1/2 orange
1 tablespoon aged balsamic vinegar
salt & pepper
Preparation
In a skillet heat oil to medium/high. Add  onions and cook until translucent and golden-colored.
Add cooked quinoa to pan and cook for another couple of minutes to toast it.
Add onions and quinoa to the remaining ingredients and mix until blended.
Serve or store.