Let's face it, cooked quinoa just isn't pretty. It doesn't matter if you use the beige, red or black variety, it is boring visually, and this porridge isn't any exception. In fact, I think it is even more ugly than the regular cooked quinoa. It looks a lot like oatmeal.  But the nutty flavor of the quinoa cooked with almond milk and naturally sweetened with  local pears and apples and the tiniest bit of date sugar make this a winner in my book for these early fall mornings. I'm a fan of oatmeal, but I like the flavor and texture of this much more than oatmeal.  Topped with whipped honey yogurt or a little maple syrup along with some toasted pecans or slivered almonds and some thawed berries from summer picking! All I can say is YUM! This is an excellent way to start your day.  And, best of all, you can make a batch over the weekend and enjoy it for a couple of days to start off the week right.
This is simple and healthy. I'll have samples of it in the ADA Triangle tent as the Step-Out 2011 Walk to Stop Diabetes begins on October 15th at North Hills. Then I'll move to the Midtown Farmers' Market and provide additional "Diabetes-Friendly" Samples for everyone to try that are made from local farm food you can purchase from the vendors at the market. There will be recipes at both locations so you can shop with the local farms from 8-12.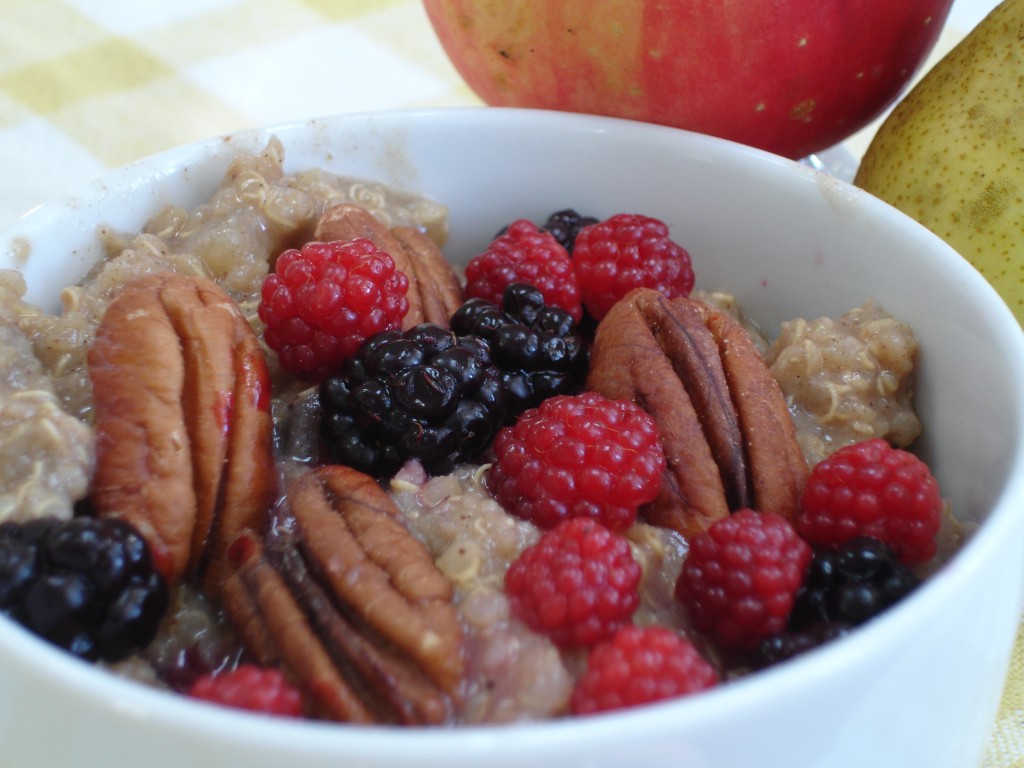 Quinoa Porridge with Apples, Pears & Toasted Nuts

Ingredients
1/2 cup raw rinsed quinoa
2 cups unsweetened almond milk
1 tablespoon date sugar
1 teaspoon vanilla powder or extract
1/4 teaspoon cinnamon (your choice)
1 cup cubed apples and pears (1/2″)
Pinch of Himalayan salt
Optional blueberries or raspberries thawed
Optional whipped yogurt with honey or maple syrup
Preparation
Heat the rinsed quinoa in a saucepan over medium/low heat along with the cinnamon for about 3 minutes without burning.
Pour in the almond milk, vanilla, date sugar and fruit.
Bring to a boil over medium/high heat and reduce immediately to a low simmer and cook until the porridge is thick and the grains are tender; about 20 minutes, stirring as needed. Add more almond milk if the mixture becomes too dry and sticks to much to the pan.
Top with 1/2-1 teaspoon of maple syrup or whipped honey yogurt and some thawed blueberries, blackberries, raspberries and toasted pecans or slivered almonds.
Notes
This can be refrigerated for up to 3 days and reheated on 50% setting in microwave for about 30 seconds or in a stove on low with some additional almond milk.
This can be served chilled if it's warm out.