Throughout the season, I've encountered many questions about modifying recipes and storing foods from the farmers' market or CSA boxes. It occurred to me  that explaining my process of selecting and adapting recipes might be helpful with the upcoming Triangle Step Out Walk to Stop Diabetes next weekend. Small changes in a recipe can make a huge world of difference if you have a food allergy or are trying to incorporate more local foods into your diet. And since I like to advocate eating local organic farm foods when I cook at the market, here's how I go about it. Please feel free to send me questions if something isn't clear.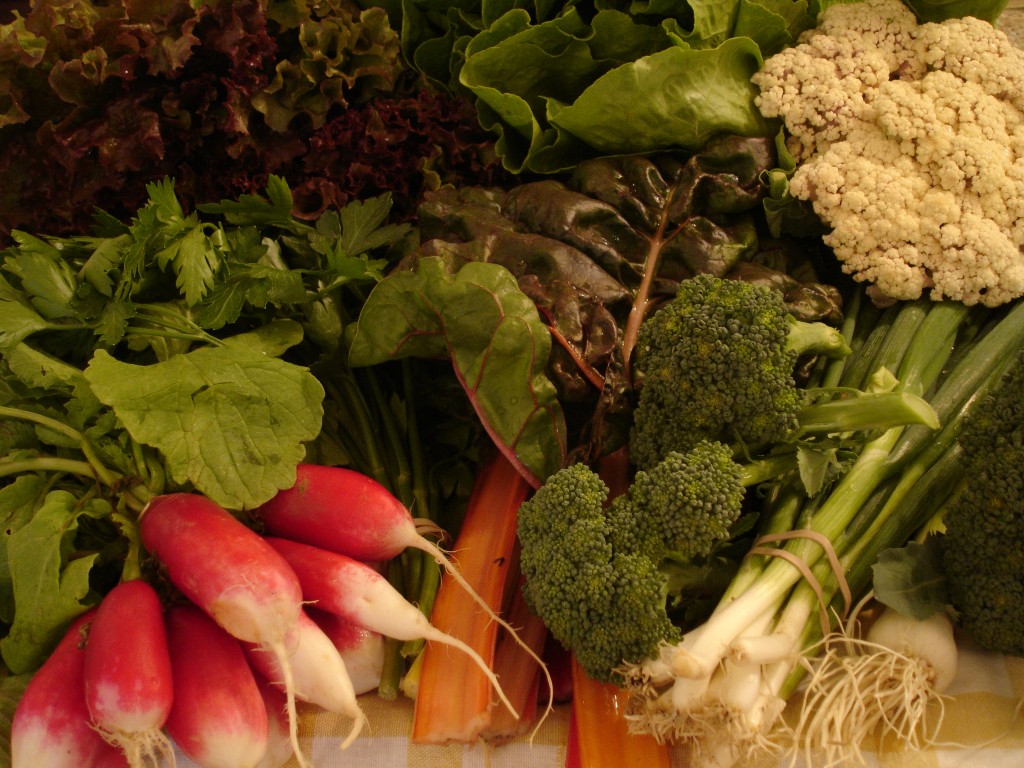 7 steps you can use to modify a recipe:
Look at whether the finished product is going to lend itself to being modified by examining the ingredient list. Are there a lot of "processed" foods in the recipe that you can exchange for "whole" foods or does the whole recipe depend on using the processed foods for flavor or texture? Recipes to avoid might be desserts that call for commercial whipped topping or casseroles that have a large portion of mayonnaise in the base. Start with something that has some seasonal ingredients and use fresh as a beginning point.
Are the ingredients in-season together? This makes shopping at the market more productive. If they aren't "in-season" can you "put up" any of them by freezing, dehydrating or canning prior to making a recipe. If so, it means a recipe can be used year-round which is a huge plus and can reduce your cost. If you can figure out how to store items that you buy in bulk or pick-your-own, you can reduce your overall budget.
Figure out which ingredients can be purchased from local farms. We are fortunate to have many great farmers' markets in the area and it's hard to choose where to go "shopping". If you can't get something locally, than try to find an ingredient that can be swapped. Let me stress the need to "meal plan" at least a half a week in advance. It gets easier over time. Try to find ways to use the same item in multiple dishes during the week and save a little time and money in the process. Whole chickens, large roasts, a base of quinoa or couscous, or similar vegetables prepared in different ways are good examples.
Are there any "allergy" foods in the recipe? Can anything be swapped to make it more safe; like pecans or walnuts for peanuts? Or tahini for peanut butter; coconut, soy, almond or goat's milk for cow's milk? Can salt be reduced or replaced with spices that enhance the flavor and complexity of taste, as well as reduce the need for salt?
How much fat and sugar is in the recipe? Can either be cut back or can ingredients be swapped for more healthy results. Do the swaps maintain good flavor and texture? Butter, olive oil, coconut water & coconut oil, applesauce, low sugar fruit preserves are all good examples of potential sugar swaps. Carrots, raisins, currants and dates can add texture and sweetness to many desserts and some savory dishes as well. Many recipes can be reduced and swapped up to 50% and end up with more interesting flavors. Coconut oil is a great replacement for butter in some recipes and creates a very light cake batter. Broth can be a substitute for fat with a ton of flavor enhancement using spices. Sugars come in all forms so I try to reduce processed sugar with date sugar, coconut water, spices and real fruit. And sometimes you can deconstruct a recipe and assemble it a little differently without some of the sugar or fat. Lastly, are there any good fats that can added if the recipe seems to be too lean already?
Test the recipe noting any adaptations. Try to minimize the changes to 30%. More extensive changes require testing the recipe in multiple steps or starting from scratch with a different recipe.
Evaluate results. Does it taste good? What is there too much of, too little of, and how was the cooking technique? Is it easy or difficult? How long does it take to make? Are the left-overs good? Do they keep well for extended periods? How does everyone else like it? It becomes pretty obvious whether people want to eat it again and whether the recipe is worth the time and effort you put into it.
As you change your recipes, you may find your tolerance for sugar and fat become lower. Learn to look at recipes and foods differently. It becomes easier to change cooking methods over time as you experiment, so don't get frustrated.
It's simple to decide what you want to eat and what you want to skip once you learn how your body reacts to different foods. A food diary is helpful as you are trying new foods. Only write down the NEW foods with a couple of notes on the ingredients as you try them. Record how your body feels an hour, a couple of hours and a day after you try a new food or recipe. Did you have more or less energy? Did you feel full or hungry quickly or slowly?  We're not counting calories or grams of anything. We are all different and our bodies react in particular ways to certain foods. If you need to measure sugar levels, just take a moment to record those as well. You are just noticing things about YOUR body's reaction to the new food. After a while you can adjust your eating habits and you won't feel like you are starving or depriving yourself. You'll figure out how and when to splurge on foods that don't work well for you and adjust your other meals to compensate for your body's reactions.
Other examples of healthy swaps include pasta. If you can't eat it or don't like the gluten-free varieties, than you can substitute winter spaghetti squash pretty easily or quinoa. And during the summer shredded zucchini,  yellow patty-pan and crookneck squash can be thinly sliced and steamed as a base instead of pasta. You can also use the ribbon cut method on your zucchini and summer squash in lasagna to replace pasta noodles.
Another example is related to meat-based proteins. If you have access to hunters or fisherman, take advantage to try out some new foods in your traditional recipes.  It's a good way to keep your grocery costs down, experiment with replacement foods that are leaner and more healthy, and expand your food palate. Ground venison can be substituted totally or just partially in many chili and soup recipes. Or you can make burgers with some added pork and bake or roast up sweet potatoes and season them with cinnamon and nutmeg. There are many times when the local fish mongers at the market have some spare at the end of the market that they want to get rid of at a reduced price. They will even offer up recipes for you to try!
Have a great time experimenting! And stop by to see me at the local farmers' markets!